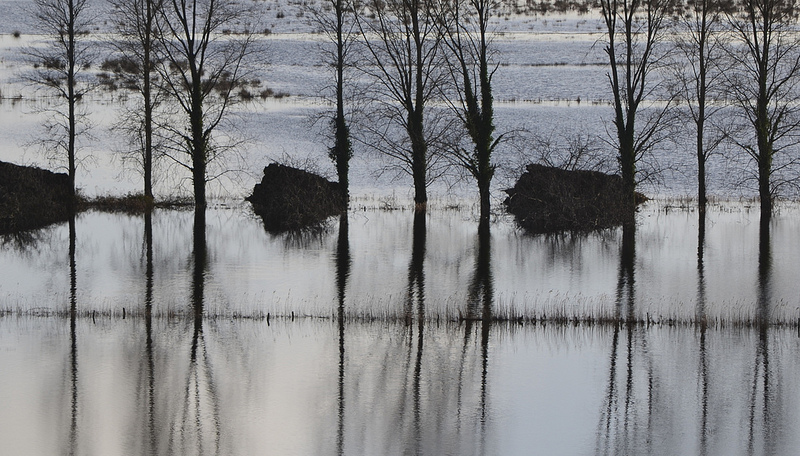 "It was very stressful as we were aware that our fate was in the hand of the Environment Agency and the council." For Winchester resident, Julie King, the real toll of the flooding that has blighted the UK in the past weeks, was not knowing what was going to happen next. When her road – ironically called Water Lane – was flooded, Julie said workers and city engineers were "brilliant" in their efforts to help the residents and clear the water, but that she was left feeling in the dark about what would happen beyond that. "They [the workers and engineers] seem to be doing their best. I think it's higher up the food chain, where decisions become political, that's causing the problems."
Where did you go for help? "I wouldn't advise people to contact the city council or Highways Agency as their response was not very helpful," Julie says. "But my conversations with Southern Water were very positive." Since the 29th January this year, over 1,000 homes have been flooded, and more than 200,000 have been issued flood warnings by the Environment Agency, following the wettest December and January on record.
What help is available to those who have been hit by flooding?
Help from government
David Cameron pledged last week that "money is no object" in the relief effort, and the government has announced measures to support those affected, including:
a £5,000 repair and renew grant for all affected homeowners and businesses
three month business rate relief for all affected businesses
help from HMRC for anyone who is struggling to pay their tax
help for farmers to restore their land to production
Further details at www.gov.uk.
Help from your insurer
Most insurance policies will cover damage caused by extreme weather or flooding; but in areas where there is a known risk of flooding, insurers may exclude compensation for flood damage from their policies; so check your individual policy or contact your provider to see if you are covered.
If you are covered, contact your provider immediately and ask when a loss adjuster will visit; they will assess what compensation is required and is covered by your policy. Also confirm that they will pay for any repairs, services or equipment you may need. The Environment Agency advises that you should also ask whether or not you should clean your property.
Keep records of all communications with insurers, including: dates of conversations, the name of the person you contacted, what was agreed, as well as any emails, letters or faxes you send or receive. Keep all receipts.
You should also record the damage to your property. List and take photos and/or videos of all damaged property.
Should your insurance provider refuse your claim, and you are certain that you are covered by your policy, you should first write to your insurer with details of your complaint. Tell your provider what you want them to do, and give them a time to respond. Keep a copy of your complaint letter, and send all correspondences by recorded delivery.
If your insurer fails to give a satisfactory reply, you can make a formal complaint, using their official complaints process. This process may vary depending on the insurer, so check on your insurer's website.
If you are still unsatisfied with the outcome of this procedure, you can take the claim to the Financial Ombudsman Service. This is a free service available if you have been through the insurer's official complaints process. They will attempt to mediate the complaint between you and your insurer.
For information on the Financial Ombudsman Service, and how to make a complaint, visit their website HERE.
Help from your local authority
Your local authority may have measures in place to offer help in times of emergency or disaster, so it is worth contacting your local authority to find out what, if any, help is available, and how to apply for it.
In emergency cases, some households may receive payments to replace essential items, or in cases where residents can no longer stay in their home, the local authority may have a legal responsibility to provide temporary accommodation. Anyone made homeless by flooding is automatically a priority.
However, some local authorities have stated they will not provide financial aid towards recovery, and instead leave it to the government. For Julie, and for others where this is the case, the best option may be to seek help from elsewhere.
For more information on where you can get help if you have been affected by flooding, the Environment Agency has an advice page HERE, and also a special 'Floodline' helpline on 0345 988 1188 or 0845 988 1188.
The Citizens Advice Bureau also have a help page HERE