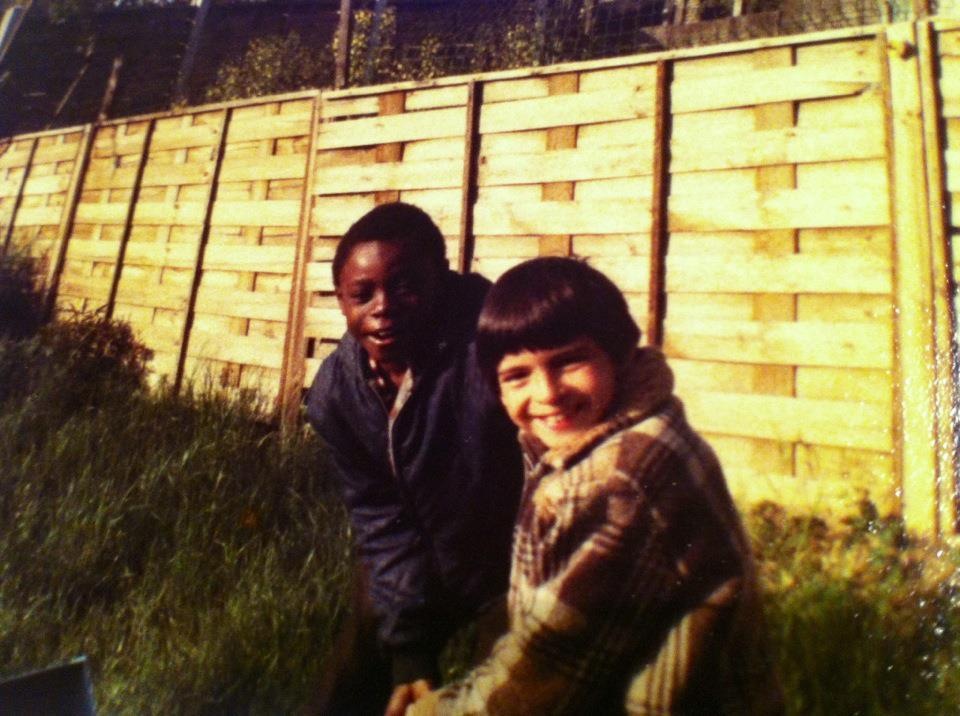 "No matter what start you have in life, you can turn it around," says Leroy Skeete.
Skeete was born in Forest Gate, East London, 44 years ago and describes his former self as a rebellious youngster. His father left when Skeete was five and he then had no real male role model to guide him. "I think he was just fed up of my mother," he says.
Skeete lived at home with his mother and sister, until being taken into care at the age of 10 years. "My mother blamed men for most things, and took it out on me," he recalls. He was not placed with a family and attempts made for Skeete to move back with his mother failed. As a boy he was continually beaten at home; he became increasingly resilient and started to rebel. He was taken to Pear Tree House, an assessment centre. He recalls the 'Oak Room' – a cell, with a light, a wooden bed in which everything was screwed down. "Nothing deterred me, I was becoming harder and tougher," he said.
"I was very aggressive. I felt angry. My mother had failed me, and now the care system was failing me. There was no help. Everyone was shouting at me – at home, in care and also at school."
Leroy Skeete
During Skeete's time in the care system, he was attending school and often in trouble. When threatened with detention, the teacher would head straight to the classroom door, to prevent Skeete from leaving. Skeete jumped out of the window.
Skeete had his first experience of drugs at a young age. He smoked weed with the boys in care and says "when you are searching for something or trying to numb the pain, this generally comes in the form of drugs."
Always fighting
Skeete was in an unstable relationship, his first serious one, and had a child with his girlfriend against the wishes of her family who had taken a disliking to him. Skeete, aged 19, got into a fight with his girlfriend and served three months in Wormwood Scrubs. "I shirked my responsibility as a father. I was a coward".
Later, he found himself in trouble with the police again. This time for GBH and kidnap, for which he served two and a half years. Skeete remembers prison: "I would not conform and was always fighting. I was anti-authority. I feared nothing and no one."
Upon release, Skeete met a woman who ran her own florist business. Skeete was given a job on her stall. Whilst working, Skeete was trying to keep his head down and out of trouble. However, this was, again, unsuccessful. An old friend of his turned up at the stall and asked him to go out for drinks at a pub called the Rising Sun, a notoriously racist pub.
Blasé about violence
As soon as Skeete walked into the pub, he knew this was not a place he wanted to be. Before he knew it, there was a group of men outside and an altercation took place. Skeete's friend hit someone around the head, who later died. Now in his early 20s, Skeete found himself being arrested again, this time for murder. His friend was convicted of murder and Skeete was convicted of affray and served 18 months.
Back out in the community and following the incident at the Rising Sun, Skeete was being sent death threats and his mother was receiving phone calls from people looking for him. Skeete was taking drugs and developed a crack addiction. He carried weapons and his lifestyle became increasingly violent. Skeete was stabbed in the back and the head. He was admitted to hospital, but, after treatment, discharged himself and went straight to the pub.
One evening, Skeete and some friends were drinking in a pub when a man, who Skeete knew had been looking for him, came in. What happened that night resulted in Skeete being convicted of GBH with intent and given a life sentence at the Old Bailey in 1999.
Shortly after his sentence had began, Skeete started took a look in the mirror and did not like what he saw. He decided to get his life back on track. He was off the drugs and began to read. He was keen to learn about personal development, particularly of the mind, and fund out more about inspirational figures, such as Nelson Mandela.
During his sentence, Skeete was moved to an open prison and worked at a local charity shop at weekends. Skeete was quickly moved to HMP Bristol and back up to a Category B closed prison. He was told that the prison believed that he was having a relationship with the woman in the charity shop. He was.
Skeete was, again, called in to be told that in order to be assessed and released, he would have to complete the cognitive self change programme which assesses offending behaviour. His parole hearing was due in a few weeks, and this was a major setback. "The course reinforces negative mental attitude which often causes reoffending," he reckons.
The prisoner was told he wouldn't be released but instead faced a further seven years inside. Not because he had caused any trouble during his time inside (he hadn't) or been using or selling drugs (he was clean) but because he had to complete an offending behaviour course. That wasn't possible because there were only a couple of prisons where the course was available and a five-year waiting list for places.
Skeete contacted the Prisoners Advice Service. He was represented at his parole hearing by Matt Evans, PAS's former manager and regular JusticeGap contributor. The hearing was successful and Skeete was released without having to complete the programme.
"If I had not been able to access PAS with the assistance of legal aid, I would definitely still be in prison now," says Skeete; adding that there was a five year waiting list for the course which took a minimum of one year. "So, you can do the maths and see that even if I had agreed to do the course, I would have been stuck in prison for another seven years minimum. And not because I was a danger to the public, because I proved at the parole hearing (and have continued to prove since release) that I am not."
A dysfunctional way of life
Skeete was released in July 2009. Whilst in custody, Skeete met the former Tory minister Jonathan Aitken, jailed for perjury and perverting the course of justice, who later became Skeete's mentor. "Although I have no real leanings towards any political party, I judge Jonathan Aitken on the commitment he has shown towards me, which has been outstanding" he says.
"I am not looking to excuse the mistakes I have made, nor do I glamourise the lifestyle. It was a dysfunctional way of life. When I look back, sometimes it even shocks me.
Skeete has given talks, including for the JusticeGap/PAS lecture (HERE) and at the House of Commons, about prison education. He has also spoken at a rally, celebrating 64 years of Legal Aid (HERE), outside the Old Bailey. At that rally, Skeete said "the system shits on the poor. It has to stop".
He explains he was there. "Legal Aid gave me hope," he says. "And hope is the last the thing in the world a person with nothing, can turn to. It gives you the strength and optimism needed in times of adversity. That hope gave me the strength to carry on when I considered taking my own life."
"The support of PAS cannot be forgotten, because through their hardwork, I was able to win my release," he says. The charity, Blue Sky Development and Regeneration, has also played a major part in giving Skeete employment and a chance to prove himself. Skeete now considers himself very lucky. He says his marriage is "one of life's rewards, for all the hard work I've put into turning my life around."
"Talking about my life in detail does leave me feeling a bit down," Skeete tells me. "I'm always left with feelings of guilt, shame and some regrets." He says his "plan for the future" is to "continue to share my story in order to inspire people". "I am also going to compartmentalise the steps I took to turn my life around, in order to teach others how they can make a success of their life, because, although I more often than not, put my success down to luck and being blessed, the truth is, I planned my successful turnaround when I was in prison," he says. "And so far so good, but there is much more to come."
Leroy Skeete is currently embarking on a new career, as a writer, and is writing his life story Loveable Rogue. You can find an extract HERE.