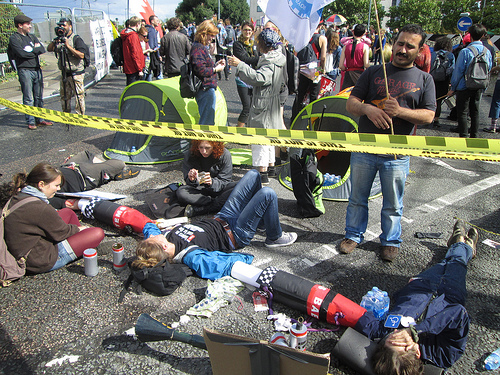 This year a group of activists, including myself, have commenced private prosecution proceedings against two international arms companies for promoting illegal torture weapons at last year's DSEi arms fair.
DSEi ("Defence Security Equipment International"), is the world's largest arms fair, and takes place every two years in East London. It is jointly held and heavily subsidised by the British government. Delegates from some of the world's most oppressive regimes freely attend.
You can find out more HERE
Follow on Twitter @dseiprosecution
Previous invitees have included states identified by the UK Foreign Office as having 'the most serious wide-ranging human rights concerns', such as Afganistan, Colombia, Iraq, Pakistan, Saudi Arabia, Turkmenistan, Uzbekistan, Vietnam and Libya (both previous and current regimes).
A report commissioned by Amnesty International identified that at every DSEi arms fair since 2005 illegal weapons were exhibited for sale . These have included weapons designed specifically for torture (including weighted fetters, gang chains and electro-shock weapons), as well as cluster munitions and anti-personnel landmines.
Despite repeated exposure by the media and NGOs, no action has been taken by the state against either the hosts or exhibitors of the arms fair. Last year, following questions being raised in Parliament by Caroline Lucas MP, two companies (Tianjin MyWay International of China and Magforce International of France) were ejected from the event for promoting illegal torture weapons including fetters, electric stun batons and stun guns.
Our group came together at the mobilisation against last year's DSEi. Many of us faced legal charges for disrupting the arms fair by blocking vehicular access to the Excel Centre, where the event is held. Some of us blockaded a lorry, some locked onto each other by metal arm tubes and others blocked the road with their bodies.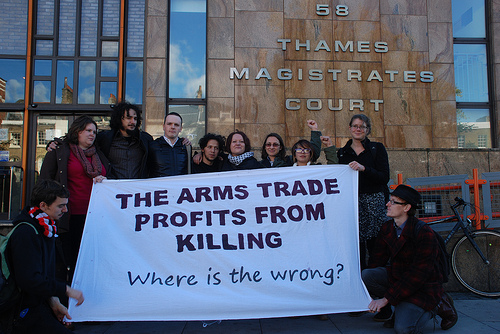 Activists were charged with various obstruction offences. The majority of those who were charged pleaded 'not guilty' on grounds of necessity, on the basis they were acting to prevent greater crimes – brutal state repression, crimes against humanity and the promotion of illegal weapons used for torture. We consistently demanded disclosure of information about the state's failure to investigate or further prevent the promotion of illegal weapons at DSEi. With no answer forthcoming, a week before trial all the activists from our trial group had the cases against them dropped.
Although relieved, we were disappointed the state had successfully avoided scrutiny of their failure to act against the promotion of torture weapons at the arms fair. In light of this, we decided as a group to commence private prosecution proceedings against the arms dealers ourselves. Last month our solicitor Raj Chada of Hodge Jones and Allen laid our evidence before the court and District Judge Brammall approved our criminal summonses.
On 24th April 2014 representatives of the two companies will be required to attend court, where our charges will be put to them.
Those of us pursuing the case are not merely seeking to 'clean up' the arms fair. We oppose the arms fair – and all the human misery, repression and human rights abuses that flow out of it – full stop.
We see this private prosecution as a rare opportunity to hold the arms companies accountable for their actions; a chance to expose the arms fair's true colours; and one more step towards stopping the DSEi arms fair for good.