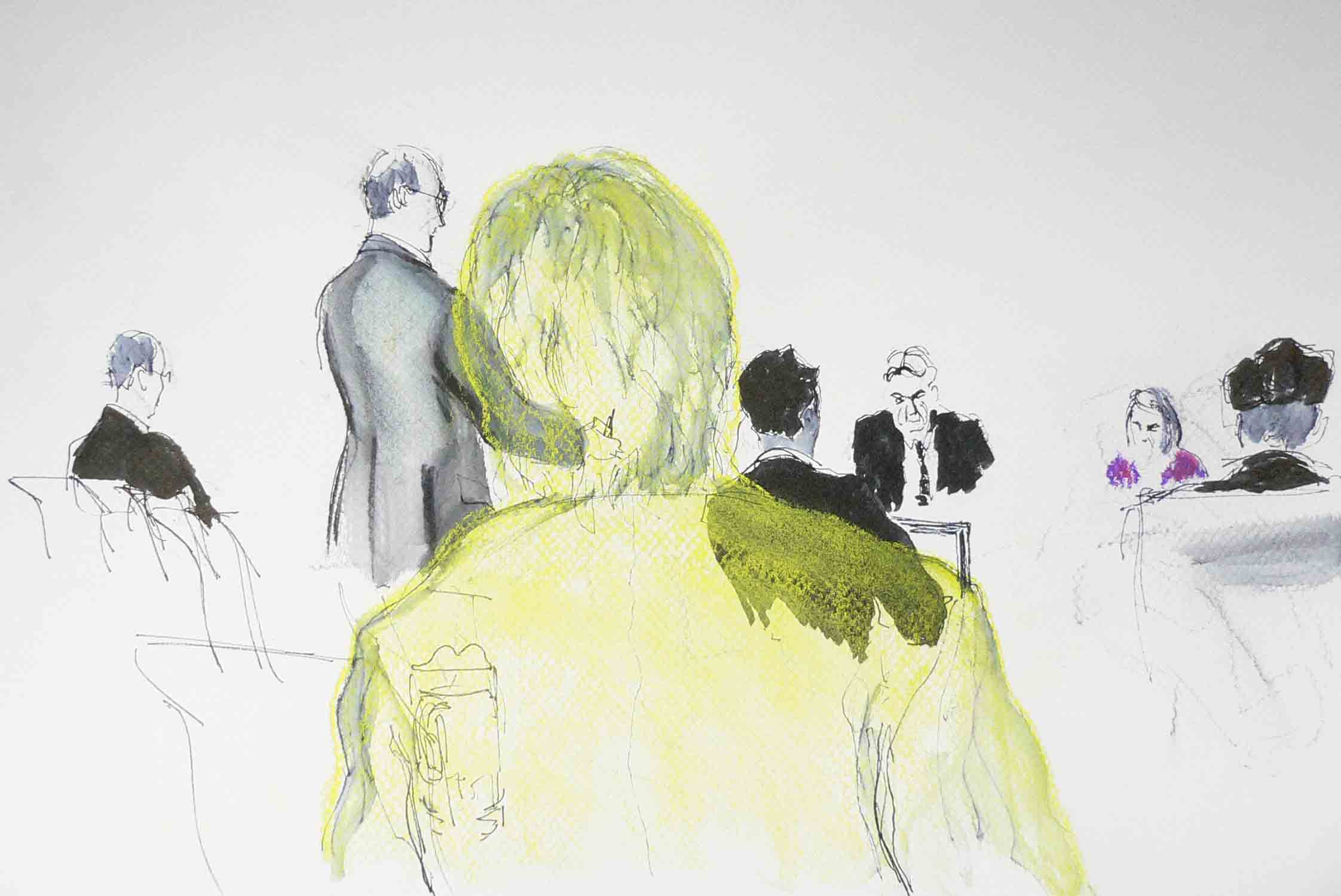 Batting for the 'have nots' rather than the 'haves', Old Skool policy wonks like me don't get to claim many policy wins – we spend most of our professional lives banging our world-weary heads against very well constructed brick walls. So we tend to cherish our rare successes, and especially those that aren't swiftly reversed by undaunted ministers and a cynical change in the law. Sketch by Isobel Williams of AA (Somalia) v Entry Clearance Officer (Addis Ababa) in the Supreme Court – see Isobel's website
Earlier this week, then, I was somewhat gutted to discover that the earliest and greatest of my rare policy wins – after three decades of policy wonking, I'm still counting on just one hand – was not so great after all.
In 1996, in a report for Amnesty International UK on the detention of asylum-seekers, I suggested that the evident criminal prosecution and imprisonment, since 1994, of hundreds of men and women stopped while seeking to transit Heathrow airport using forged passports, was in breach of Article 31 of the UN Convention on Refugees.
In 1998, that part of my Amnesty report was republished in the International Journal of Refugee Law. And in 1999, that article was cited in the High Court ruling in the case of R v Uxbridge Magistrates Court and another ex parte Adimi [1999] EWHC Admin 765.
In Adimi, the High Court held that such prosecutions were indeed unlawful where they occurred without regard to the protection from penalty for the use of false documents provided by Article 31 of the UN Convention. And the then Labour government rapidly responded by inserting into the Immigration & Asylum Act 1999 – then conveniently mid-passage through Parliament – a statutory defence based on Article 31 to a limited range of offences, including possession of a false passport. In short, refugees have a defence under the 1999 Act if they can show that they had no option but to use forged or altered travel documents in order to flee persecution.
Dunstan wins! Crack open the champagne!
Fast forward 14 years, to Tuesday of this week, when my Twitter timeline included a report in the Daily Telegraph of oral evidence given to the House of Commons Justice Committee of MPs by Richard Foster, chair of the Criminal Cases Review Commission (CCRC). The British authorities are still wasting "enormous" sums of money prosecuting and imprisoning genuine refugees, Mr Foster told the MPs on Monday, and the CCRC is in discussions with the Solicitors Regulation Authority about whether "defence lawyers could be disciplined for not doing their job properly".
Mr Foster told the Committee that, to date, 14 such cases have been referred to the appeal courts on the CCRC's recommendation, and in 12 of those cases the conviction has now been quashed (one appeal is outstanding, and one was abandoned by the appellant). The CCRC is currently examining a further 80 cases, but Mr Foster warned that he would be "very surprised indeed if there weren't many hundreds more yet to come forward". And he found it "really shocking" that, despite the individuals having been dealt with by the immigration service, the police, defence lawyers and the Crown Prosecution Service, "nobody had spotted that they have a very clear statutory defence".
Among the convictions referred to the appeal courts by the CCRC is that of Busani Zondo, a Zimbabwean national. In March 2008, at Manchester Crown Court, Mr Zondo pleaded guilty to "possessing an improperly obtained false instrument with intent contrary to the Identity Cards Act 2006". He was sentenced to ten months' imprisonment.
Mr Zondo applied to the CCRC for a review of his conviction in August 2012. And, late last year, the Commission referred the case to the Court of Appeal on the basis that Mr Zondo – who was granted refugee status in the UK earlier in 2013 -– took legal advice to plead guilty (and so receive a reduced sentence) when in fact "he was entitled to a defence under the Immigration & Asylum Act 1999 in circumstances where that defence would probably have succeeded". Accordingly, says the CCRC, "there is a real possibility the Appeal Court will quash the conviction".
So why is this unlawful practice – seemingly squashed for good 14 years ago – still happening? The CCRC tells me that the most recent case they are dealing with relates to a conviction in January 2013. Who in the Crown Prosecution Service authorised "many hundreds" of patently unlawful prosecutions? At what cost to the taxpayer? And at what human cost to the men and women who were so unlawfully imprisoned?
Hopefully, these are questions to which the Justice Committee of MPs will at some point provide answers. In the meantime, any lawyer or refugee support group that knows of such a case should contact the CCRC.