[contextly_auto_sidebar id="f7YcNKyWqRBZSxZk1hmBgjtbfQCZrLf2″]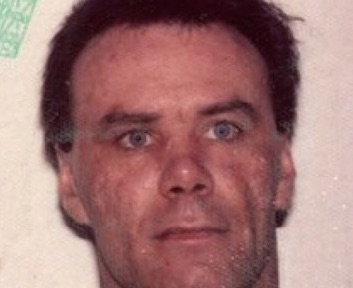 INTERVIEW: 'I lost everything I had before I went into prison,' says Victor Nealon, who was given a discretionary life sentence in January 1997. He has been out of prison for just over a year having had his conviction quashed at the end of 2013 as a result of new DNA evidence. 'It is one thing to lose your freedom, family, friends, job and money; but it's quite another thing to be told in prison that, unless you confess to the crime, you'll never ever be released. I was told I had no prospect for release. I continued to maintain my innocence for 17 years.'
The damage done to the 54-year old Dubliner is profound. At the beginning of our interview I ask him how he is, Nealon replies: 'I'm under the care of a psychiatrist. I am not working and I am on sick benefits. Prison has ruined my life.' The reality of freedom is grim for the former postman. He is on medication to help deal with the post traumatic stress disorder and to curb the nightmares he suffers. 'I live alone,' he says. 'I have only one friend. I don't find it easy to make friends.'
Victor Nealon has begun legal action for compensation for the consequences of his wrongful imprisonment. His case – which has been joined by one of Britain's youngest victims of miscarriage of justice, Sam Hallam – is set to become a test case for a new stricter regime to compensate the victims of miscarriages introduced last year under the Anti-Social Behaviour, Crime and Policing Act 2014.
You can read about Victor Nealon and Sam Hallam's in this week's Independent on Sunday in A Failure of Justice by JusticeGap editor Jon Robins and the Independent's crime correspondent Paul Peachey
You can read Sasha Barton's article The Flaws in the Innocence Test here
Victor Nealon left HMP Wakefield with just three hours' notice, £46 in his pocket and a train ticket to Shrewsbury. It was widely and incorrectly reported that he spent his first night of freedom on the streets.
What happened was that the newly released Nealon travelled to Shrewsbury where a good friend from prison lived with whom he was hoping to stay. 'I didn't know but he was at the Court of Appeal in London waiting for me. I had to use the £46 for a B&B,' he recalls. Unbeknown to his pal, instead of being at the Royal Courts of Justice, Victor Nealon had been following the hearing from prison via videolink.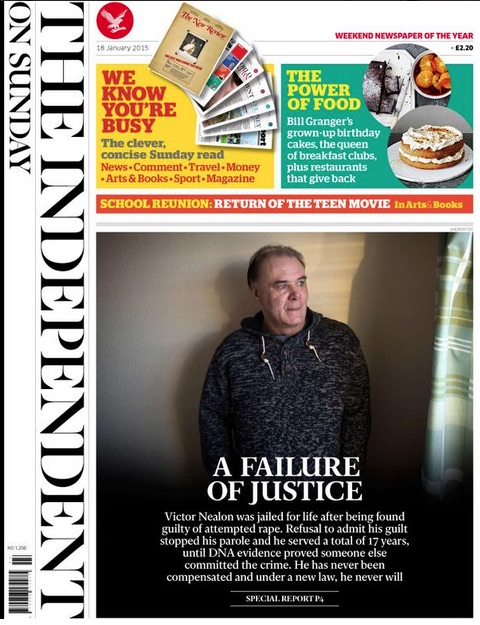 Living from hour to hour
The next morning he was introduced to BBC journalists who (in his words) 'agreed to accommodate me temporarily in a cheap hotel if I gave them an interview'. Was he comfortable with that arrangement? 'It was better than being on the streets but, no, I wasn't,' he replies. 'It was expedient. I had absolutely no idea what to do. I was living from hour to hour.' His friend later put him in touch with the MP John Hemming who arranged for him to stay above his constituency office.
In an interview Nealon gave shortly after he was released, he talked about being 'a greater person' for prison. He emphatically says that is not how he feels now. He explains that his upbeat words in that interview were a result of a brief period of post-release euphoria which soon vanished. 'My mind was so overloaded at the time,' he says. 'I was overwhelmed by the fact that I was released and that there were people around me listening to me.'
Nealon survived prison by throwing himself into his studies and preparing for his appeal. He read up about the law, philosophy and astronomy. For example, he says he was inspired by Brian Magee's Confessions of a Philosopher. 'I found his words very comforting,' he says. He says his reading gave him 'a better understanding of the human condition and how to deal with everyday situations in life'.
'No one knows from day to day what's around the corner. Hope was the only thing that I had. That, and my dignity which I got back because I learned how to control my anger in prison. I studied hard. I became more analytical.'
Victor Nealon
When the time came for his appeal, Nealon says he 'didn't have any faith' in the criminal justice system. 'I was really prepared for a shock. I had been let down before,' re recalls. The evidence used to secure his conviction was a disputed ID parade and a weakened alibi. His conviction was quashed in December 2012 after DNA pointed to another man as the perpetrator. However at his appeal he was shocked to hear prosecution counsel attempted to argue that the unknown man's DNA could have been explained by 'innocent transfer'.
'I want to point out very strongly, one year after the conviction was quashed, that there was absolutely no substance to the prosecutors' argument. They would've been happy to keep me in prison on the basis of an argument that had no substance. It is horrific to think about it.'
Victor Nealon
Nealon's conversation returns to the nightmare of an innocent man being trapped in a system where acceptance of guilt is a measure of a prisoner's rehabilitation.
'The most damaging aspect of the prison system isn't being with violent people but the state ideology that says if you don't conform you are never going to be released. That was what was so damaging. If I had not overturned my conviction I would still be classified as "a denier".'
Victor Nealon
And what does he hope for from the future? 'I don't want to let this affect me for the rest of my life,' he replies. 'I'm living below the poverty line, but I have a degree of optimism because I have a case worth fighting and I'm not going to give up. I'll fight as long as it needs to be fought.'