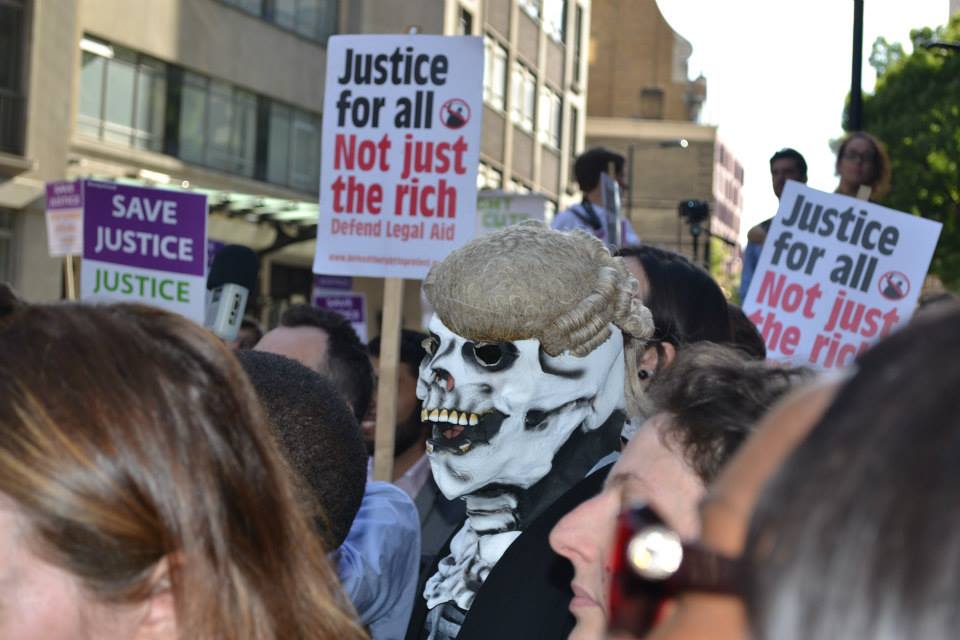 SIGN THE JUSTICE ALLIANCE PETITION: The Justice Alliance petition to save legal aid and protect access to justice for all reached over 10,000 signatures in its first week. The petition, backed by Joanna Lumley, has also been supported by film and television director Ken Loach; actors Michael Sheen and Neil Stuke; comedian Meera Syal; Labour MPs Diane Abbott and David Lammy; and veteran human rights campaigner Peter Tatchell. Many of the thousands of signatories have shared their personal experiences of needing legal aid to help them out of difficult situations.
Family matters
Many people have relied on legal aid to resolve their family law issues. According to Shona: 'If it wasn't for legal aid and a very understanding lawyer, my adopted son would still be in the foster care system with no family, security or future. It worries me what could happen to families and individuals left to face legal proceedings without legal aid and a fair system.'
Without legal aid, Katharine would not be allowed to bring up her child. 'We had our baby taken away wrongfully,' she says. 'If it wasn't for legal aid we would not have been able to have an amazing legal team that won him back. We are now reunited as a family thanks to legal aid.'
Fariyah is a victim of domestic violence. Without legal aid, she would not have been able to divorce from her abusive partner. 'It was really traumatic for me and my son,' she says. 'Stopping legal aid means depriving people of justice.'
Alix says that, as a mother, 'it is the scariest thing in the world to think you may lose your child…and that the father may win custody' simply because 'he has a job and can afford to pay for legal representation.'
A return to widespread miscarriages of justice?
Others signing the Justice Alliance petition may have been wrongfully convicted of crimes if they had not had good quality legal aid lawyers to defend them.
Hilary says that she was recently charged of a crime and, without legal aid, 'would not have been able to afford the solicitor I most wanted to represent me'.
'I have had to rely on legal aid in the past for a crime I did not commit,' says Louise – another signatory to the petition. 'Without legal aid I could have ended up in prison.'
A relative of Mandy's was wrongly accused of a crime and could not afford to pay for representation. 'Thank goodness due to legal aid he was able to be defended and rightly found not guilty,' she says.
Leroy Skeete, a former prisoner who spoke at the Justice Alliance rally for legal aid in July last year, said that, without legal aid, he would not have been able to challenge a decision to extend his sentence and 'would have spent many more years in prison'.
'Since my release I have been a productive member of society and given back in many different ways,' says Skeete. 'I have given talks on behalf of various charities, even talking in the House Of Commons, so I think my progress on release is proof that I most definitely deserved the legal aid I was granted.'
Housing is a human right
Another signatory, Daryl, has been affected by the cuts to legal aid already made under the Legal Aid Sentencing and Punishment of Offenders Act (LASPO). LASPO removed legal aid for most social welfare law – including housing, immigration, welfare benefits, and employment law cases.
Daryl was served an eviction notice by the local council because anti-social behaviour from his neighbours meant he did not want to be at home and the council thought that he had 'abandoned' his property.
According to Daryl, it was 'extremely hard to find a lawyer that deals with housing issues because it has become harder for lawyers to get funds to help people in situations like mine.' Because he could not find a legal aid lawyer to help him, Daryl ended up losing his home and is now homeless.
'I have learned that the council are violating my human rights,' says Daryl. 'Removing legal aid allows authorities to abuse their power, and is preventing people from having a legal challenge to authorities.'
Legal aid provides hope
Without the help of a legal aid lawyer, Pauline would not have been able to navigate the UK's complex asylum system after fleeing from her home country. 'This is very important to me as an asylum seeker,' says Pauline. 'Since l am not allowed to work, paying a private lawyer could not have been possible. It's thanks to legal aid I can still have some hopes in life. Please give us another chance to live by allowing legal aid to continue.'
Janis Sharp, whose son Gary McKinnon fought extradition to the US over computer-hacking charges, said that without legal aid her son 'would not be with us today.' 'In a democratic society everyone must be equal before the law,' says Sharp.
'When fighting incalculable odds, belief in justice is what sustains the human spirit. To deny or to limit access to justice, is to deny us a voice and the chance to win even when the odds are stacked against us. For fairness to exist in our courts, a level playing field is essential.'
Janis Sharp
For some signatories to the Justice Alliance petition, the legal aid cuts represent the last straw in a sustained attack on the poor and the vulnerable by the current government. 'As a disabled person the government has already taken all my money,' says Tina. 'Don't let them deny me justice also!'
It could be you
Many signatories to our petition are lucky enough never to have needed legal aid, but the reality is that no one knows when they might need access to a lawyer. As Barbara puts it: 'I have never needed legal aid, but I would like it to be there should I ever need it.' She adds: 'There are many, many people who do need it so we must try to save it.' Another signatory Philip, warns: 'Without legal aid, the innocent will go to jail. It could even be you!'
Help the Justice Alliance to reach 100,000 signatures. Sign the petition. Share it on Facebook and Twitter. Save legal aid.