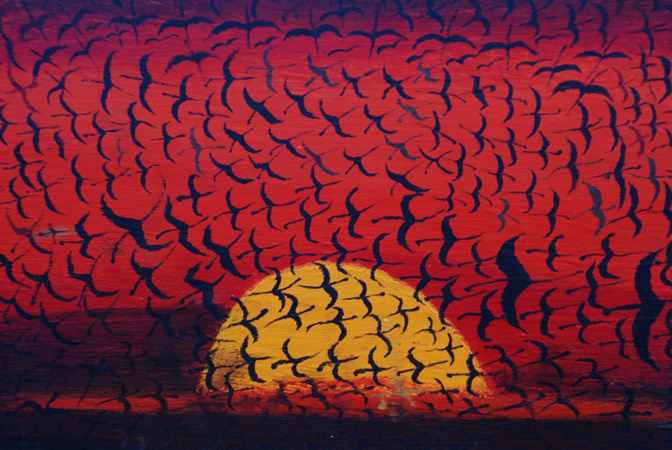 'Reoffending rates in this country have been too high for too long,' said the Justice Minister Chris Grayling in a statement to the Commons last week. 'Almost half the number of offenders released from our prisons offend again within a year. This depressing merry-go-round of crime has a dreadful impact on the lives of law-abiding, hard-working people.' Grayling was confirming plans announced in the Queen's Speech for a probation overhaul, including making sure all offenders released from prison in England and Wales will receive a minimum period of supervision, writes Mary-Rachel McCabe.
Pic from Koestler exhibition for the West Midlands 2013 (Birds Fly in the Sky, HM Prison Long Lartin, paint on canvas)
Currently, those on short sentences leave prison without any supervision at all, and only a £46 release grant in their pocket. But this latest phase of the government's 'rehabilitation revolution' means that all 85,000 prisoners in England and Wales will face a period of at least 12 months of statutory supervision and rehabilitation when they leave prison for the first time.
Grayling's Offender Rehabilitation Bill will also introduce powers to require released offenders to undergo compulsory drugs tests for cannabis while they are living in the community under supervision. Those who test positive will face penalties and be required to attend appointments with drug treatment services. Offenders will also have to comply with a programme of support on housing, training and alcohol treatment, and there will be a new emphasis on using reformed offenders to act as mentors to those newly released from prison. Those who fail to comply will face being returned to jail. 'Those who break the law need to be punished,' the Lord Chancellor said, 'but I also want to see them get their lives back on track, and that requires a thorough and thoughtful approach.'
Grayling also plans to address the 'disconnect betweenwhat happens in prisons, and what happens on the outside' by creating a 'genuine, through-the-gate service'. The current 130 prisons in England and Wales are to be reorganised, with 70 moving into a national network of resettlement prisons. Offenders will be released into the local area where their rehabilitation and supervision programme is to take place and will be banned from moving to other parts of the country without permission.
'At the moment, we move far too many prisoners all over the country in a fairly haphazard way…We are, for the first time, creating real continuity between custody and community, bridging the gap which right now just leads many offenders back to a life of crime.'
Chris Grayling
With almost half the number of offenders released from prison offending again within a year, rising to 58% for those sentenced to prison terms of less than 12 months, the move to cut crime by focusing on rehabilitation has been widely welcomed. However, with no money to provide these services in the public sector, Grayling has adopted a Thatcherite approach to deliver his plans – dismantling the public probation service and inviting private companies and the voluntary sector to bid for the work.
At least 70% of probation work will be opened up to privatisation, with the public probation service restricted to supervising high-risk offenders. The probation service in England and Wales is to be divided into 16 regional contract areas with bids invited from private and voluntary sector providers to supervise 140,000 medium and low-risk offenders. Payment-by-results represents a 'cornerstone' of the reforms and, according to Grayling: 'Our plans will use competition to drive greater efficiency, which is vital to free up the resources we need so that we can extend rehabilitation to a wider group of offenders.'
The notion that this work is available for the voluntary sector to take on, and that 'reformed old lags' will be able to help out fits in conveniently with Cameron's Big Society concept. It is, however, doubtful that responsible charitable trusts will be committing wads of cash to a payment-by-results mentoring scheme for ex-offenders without good evidence that it can get those results.
That leaves only the companies with large cash reserves open to the bidding process; and so we welcome the likes of G4S and Serco into the realm of probation.
People coming out of prison will often have a range of complicated problems – issues around mental health, drug and alcohol abuse, violence, literacy, housing, employment. Giving them the best chance of staying out of trouble requires committed and highly trained professionals to work efficiently and effectively. With Grayling's contracts worth between £5 and £10 billion over 10 years, the risk of corruption and abuse by providers who will only receive payment if they can show the work has directly resulted in reductions in reoffending is high. We have all witnessed the problems of NHS privatisation, the incompetence of the G4S Olympics fiasco and the colossal failures of the work programme, where doing nothing would have been more effective than investing billions in private-sector companies. As former prison governor John Podmore put it in an article for www.thejusticegap.com '[probation] is work that cannot be done effectively on the cheap by an evanescent group of amateurs.'
Karl Turner MP labelled the plans 'bonkers' and Andy Slaughter, Labour MP for Hammersmith, criticised the policies as 'ill-thought-out', with a 'total reliance on untried payment-by-results methods' put in place to benefit the Secretary of State's 'old friends' Serco and G4S. Ben Priestley, UNISON National Officer for Probation Staff, said the decision to break up and privatise the probation service 'will come back to haunt' this government. 'At best it will prove ineffective and at worst a dangerous experiment that will put the public at risk,' he added.
Support for vulnerable people should not be delivered on a profit making basis. The irony of the 'rehabilitation revolution' is that valuable know-how is likely to be lost in the privatisation process, which may well lead to even higher rates of reoffending.