Amnesty slams government's for 'extreme haste' of devastating legal aid cuts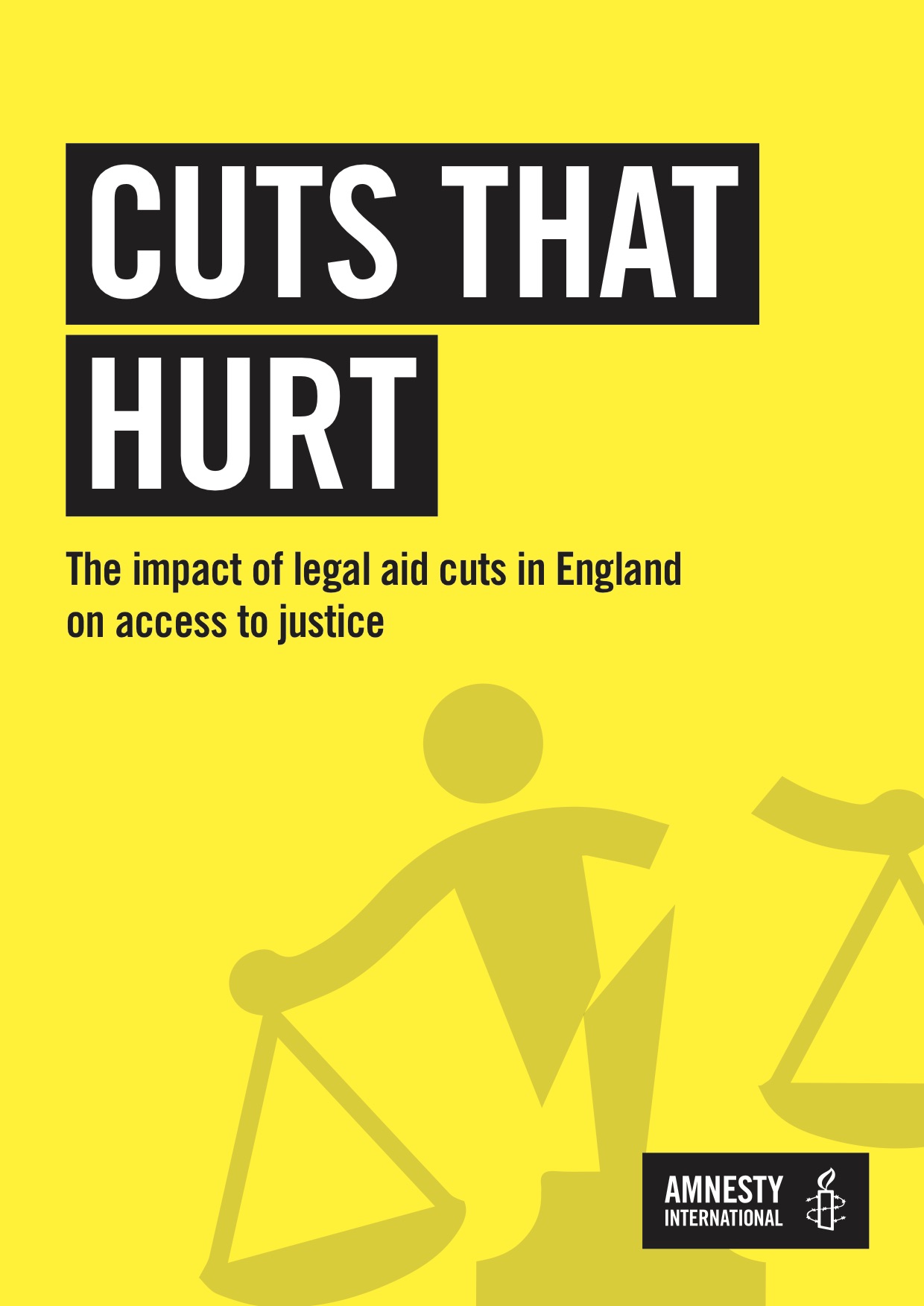 Amnesty International is calling for an immediate review of the 2013 legal aid cuts which, they argue, were introduced with 'extreme haste' and without research. As a result of the Legal Aid Sentencing and Punishment of Offenders Act 2012 introduced to make savings of £350m, Amnesty said that there now was 'a two-tier justice system: open to those who can afford it, but, increasingly closed to the poorest, most vulnerable and most in need of its protection'.
You can read about the Amnesty report on LegalVoice here and download the report here.
The year before LASPO came into force, legal aid was granted in 925,000 cases and the year after it was available in only 497,000 cases – 'a staggering drop of 46 per cent', Amnesty noted. The government has committed to reviewing the cuts by April 2018 but the group is calling for the review to start now. It  recommends reinstating public funding for family cases and immigration cases and ditching plans for a residence test which would limit legal aid to people who can prove they have been resident in the UK for at least 12 months.
'If Theresa May is really determined to deliver a country that works for all then there needs to be a justice system for everyone, not just those who can afford it,' commented Alice Wyss, Amnesty International's UK researcher. Amnesty argues that, 'in human rights terms', the cuts were 'a retrogressive measure' and have 'decimated access to justice'. 'They were primarily motivated by a desire to reduce spending on the justice system at a time of increased fiscal pressure, but were made with insufficient regard for the potential negative and profound impacts on the protection of human rights in the UK,' the group said.
'Despite the likely impact from wide-sweeping cuts to the civil legal aid system the government in essence made its decisions in extreme haste, without detailed analysis of the potential human rights impact,' Amnesty said; adding that the government failed to carry out 'adequate research'. Quoting a government memo from September 2013 to the Joint Committee on Human Rights stating that 'the legal aid reforms do not involve any fundamental right of access to the courts', Amnesty said that there was 'a worrying lack of understanding of what the impact of these cuts could be and the importance of legal aid in securing people's rights'.
The group quoted the then Lord Chancellor, Chris Grayling's words giving evidence to the the Justice Committee:
'In an ideal world, it would have been perfect to have a two-year research programme speaking to all the stakeholders and then come to a decision. Sadly, the economic situation […] did not allow that luxury.'
This position was 'fundamentally contrary to what international human rights law and standards require', Amnesty said. Noting that the government did carry out Equality Impact Assessments looking at whether the cuts would have a disproportionate effect on women, Black, Asian and Minority Ethnic individuals and disabled people which concluded that this 'would be justified as the cuts were still felt to be a proportionate means of achieving the legitimate aim of reducing public expenditure'. 'Yet there was nothing which could bear the weight of that conclusion,' the group said. The assessments contained 'no detailed analysis' on the potential impact on the range of human rights obligations or whether the cuts would 'further entrench inequality'. 'They simply state that the government's domestic, international and European obligations have been taken into account and that the provision of an exceptional funding mechanism would ensure those obligations were met.'
Amnesty said that the exceptional case funding (ECF) regime – LASPO's so-called 'safety net' provision – was 'failing'. 'The systemic and inherent failings of the ECF system render it an inadequate safety net to ensure vulnerable people's rights are protected,' the group said. 'It also cannot act as the panacea to the wider effects the cuts have had on access to justice in England.'