Another year in the Justice Gap
Please see below for some highlights – articles, quotes and pix – from last year.
We are very grateful to everyone who has written for us and supported us over the last 12 months.
Special thanks to the Justice Gap team: Will Bordell, Caterina Franchi, Lucie Boase, Sarah Foss, Eleanor Sheerin, Charlotte Hughes, Hannah Wilson, Sophie Caseley and Sascha Gill.
If you want to support the Justice Gap, buy our magazine Proof.
Happy new year.
Best wishes,
Jon Robins (editor, www.thejusticegap.com)
---
JANUARY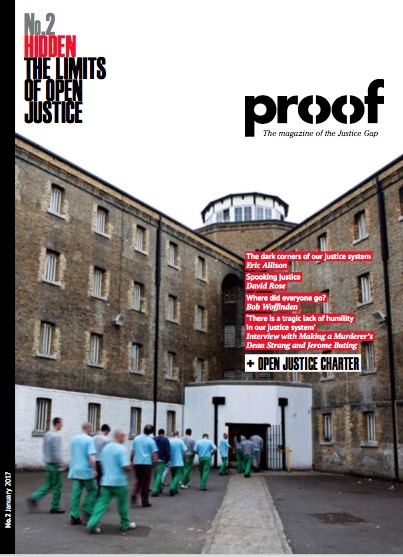 The limits of open justice
We kicked off the year by publishing the second issue of Proof magazine: Hidden: the limits of open justice. The Guardian's prisons correspondent Eric Allison wrote about the difficulties of report pm the prisons crisis (and in particular G4S run Medway Secure Training Centre).
The MoJ always deny reports of abuse, but I repeat, I have evidence. I am the prisons correspondent for a respected national newspaper. Let me do my job. If the system has nothing to hide, it has nothing to fear from a shining light.
Eric Allison
A farewell to NOMS
John Podmore also wrote about the brewing prisons crisis.
'NOMS, known as the Nightmare on Marsham Street after its initial prestigious Westminster location, was born on 1 June 2004,' he wrote. 'There was a prison crisis even then with the prison population having risen by over 60% in the previous decade. Home Secretaries Michael Howard, Jack Straw and David Blunkett had seen to that with their ever more 'tough on crime' policies and sentences. Blunkett's kafkaesque Indeterminate Sentence for Public Protection was perhaps Government's most grotesque act of penal mismanagement, the effects of which still plague the prison system today.'
---
FEBRUARY
Open Justice Charter
Dean Strang, the American lawyer who featured in the Netflix hit documentary Making a Murderer acting for Steven Avery, spoke at the launch of Proof magazine, issue 2 in the House of Commons. The event highlighted the Open Justice Charter, an initiative which comprises a series of demands for greater transparency and accountability in the justice system, and which featured in the magazine. The charter was drafted by Emily Bolton, founder at the Centre for Criminal Appeals together with Marika Henneberg from Portsmouth University, Dr Dennis Eady from Cardiff School of Law and the journalist Louise Shorter.
Almost all the exonerations in the US are attributable to the dogged work of outsiders to the judicial system: law students, underpaid criminal law professors, people who work for charities… they are the ones who pursue justice, who pursue a case and sometimes secure an exoneration through DNA, uncovering false testimony. It does not speak well to a justice system where an innocent prisoner's prospects turn on whether outsiders and volunteers will take on his case and stick with it for two, three, 10 years. That is not a system of justice. It is a system of chance. There is not much humility in that.
Dean Strang
The strange case of Thomas Quick
Sture Bergwall used to be known as Sweden's most notorious serial killer. He took the name Thomas Quick in 1992, shortly before confessing to a crime spree going back three decades. Bergwall claimed to have clocked up a gruesome tally of 39 murders and was eventually convicted of eight.
He is now Sweden's most infamous miscarriage of justice. The last of his murder convictions was overturned in December 2013. Jon Robins interviewed Swedish journalist Dan Josefsson and author of The Strange Case of Thomas Quick: The Swedish Serial Killer and the Psychoanalyst Who Created Him.
It was ludicrous. His stories were ridiculous.  Nothing added up. He couldn't show any hidden bodies or people who disappeared – ever. Everything was just crazy but the system around him really wanted him to be the killer. They nourished him.
Dan Josefsson
---
MARCH
The media betrays us all on a daily basis
Bob Woffinden delivered a damning critique of a media which in his view has given up on serious public interest coverage of justice issues. 'Public interest news values were traditionally defined as matters that – in the public interest – ought to be generally known,' he wrote. 'Now, after the entrenchment of social media, the public interest has been redefined as news that members of the public, even if momentarily, are actually interested in. Moreover, we know what they're interested in, because we can tell that from the number of clicks that a story receives. This is now the criterion that dominates all others. Virtually all media publications feature 'Top 10' lists of their most-read stories. So a story about, say, a man grappling single-handed with a crocodile will displace a news report about some development in the criminal courts; it will attract clicks in the tens of millions whereas the latter will receive negligible attention. Public interest news values, as we once understood them, are no more.'
The reassurance that we have a free and unfettered media to report criminal trials, and that we have a plurality of media organisations to offer comment on aspects of the system, are empty reassurances. In the realm of criminal justice, the media betrays us all on a daily basis.
Bob Woffinden
'I wanted to be private'
Jon Robins interviewed Harvey Proctor about being caught up in 'a homosexual witch-hunt'. Operation Midland – Scotland Yard's high-profile investigation into claims of a Westminster paedophile ring – cost £2.5m of taxpayers' money, tied up officers for 16 months and destroyed the lives of those who came under its suspicion. It failed to deliver a single arrest or any evidence. The former Tory MP who was interviewed twice under caution and, for a second time, had his reputation destroyed.
'I may not look destitute, but I am. I have no money. I have no assets.' If it wasn't for the support of friends, Proctor reckons he would be homeless. 'I have a roof over my head for my partner and my dogs.' He calls his new home 'a glorified shed'. 'It is an outbuilding on a farmhouse away from the house. There is no running water,' he says.
---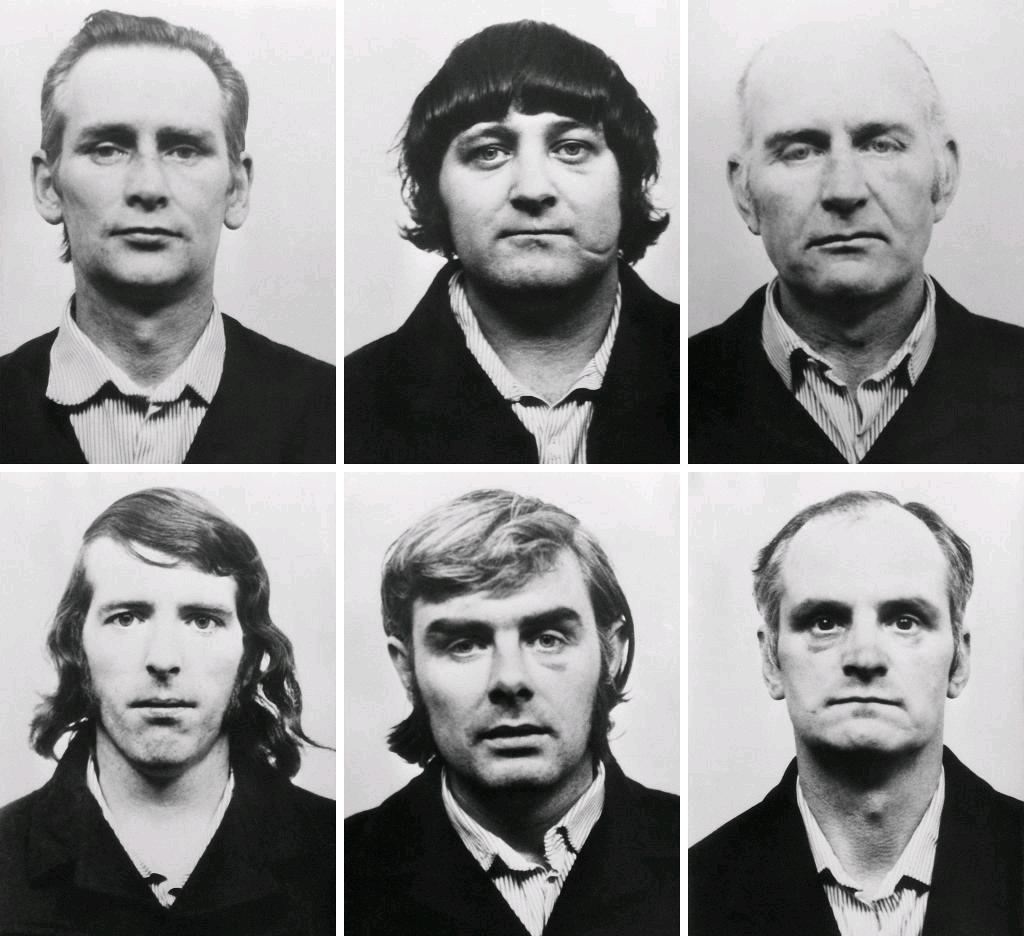 APRIL
Partly excellent, partly abysmal
Paul May looked at 20 years of the Criminal Cases Review Commission. 'As the CCRC enters its third decade, I'll raise a qualified cheer,' wrote May, who has been involved in numerous campaigns on behalf of the victims of miscarriages from the Birmingham Six, Judith Ward, and the Bridgewater Four through to Sam Hallam and Eddie Gilfoyle. 'Hundreds of innocent men and women have achieved justice thanks to the Commission's efforts. I must, nevertheless, also nominate the CCRC for a Curate's Egg award. Its record is partly excellent and partly abysmal. Or to borrow words which often appeared in my own school reports 'just about satisfactory but could do a lot better'.
Should we really be celebrating at all, asked professor Julie Price of Cardiff University's innocence project introducing our #CCRC20 series.
The mysterious case of the vanishing court reporter
Increasingly, newspapers have stopped reporting on what's happening in our courts. Brian Thornton introduced original research on disappearing practice of court reporting.
According to the research, less than half (44%) of local newspapers had a dedicated court reporter and four out of 10 editors thought it wasn't essential to have a dedicated court reporter.
The fact that the media is engaging less and less with the everyday workings of the criminal justice system means that journalists are increasing unaware of what actually happens in such important settings as crown courts or coroner's courts. Ignorance is dangerous because it spreads to the public – i.e. if the public aren't being informed about what's happening in courts, how can they be expected to know? Secondly, the fact that fewer and fewer court proceedings are being observed by anyone outside the legal profession means that there is virtually no lay oversight, no-one to highlight problems or malpractice.
Brian Thornton
---
MAY
'Unimaginable horror'
Will Bordell spoke to parents wrongly accused of baby-shaking. When their five-month-old daughter Effie collapsed in the early hours of August 2016, parents Craig Stillwell and Carla Andrews rushed her to hospital. Accused of shaking his baby, Stillwell was arrested in hours. Once she was released from hospital, Effie was placed in foster care and her parents were only allowed to see her in a contact centre for a few hours a week.
Tests for the rare genetic condition Ehlers-Danlos Syndrome (EDS) eventually revealed that Effie suffered from Type IV, which can cause easy bruising and spontaneous bleeds on the brain. Nine months later, Stillwell was acquitted and Effie back home. 'When Effie was going through this, we bought a Chinese one night and they gave us a fortune cookie,' Stillwell told Bordell. 'And in my fortune cookie it said: "Your kindness will surely be repaid." I've still got that in my wallet to this day. If you know you're innocent, just keep fighting and it will be repaid when your child comes home.'
'Buried alive'
Paul May reflected on the shocking case of Judith Ward 25 years on. Ward was wrongly convicted in 1974 of the 1972 M62 coach bombing in which 12 soldiers and members of their families as they were returning to Catterick camp in North Yorkshire, were killed in the explosion. At the time it was the worst IRA outrage on the British mainland. She served 17 years before having her conviction overturned.
'On 4 June 1992, I sat with Judy and her legal team as the court delivered its judgment,' May wrote. 'The verdict exceeded even our most optimistic aspirations. The actions of police, prosecution and scientists who had combined to incarcerate a vulnerable innocent woman were condemned in the strongest terms. In a memorable passage, Glidewell LJ declared emphatically 'our law does not tolerate a conviction to be secured by ambush'.'
May compared the Ward case to more contemporary miscarriage cases such as Sam Hallam where major non disclosure led to the imprisonment of a teenager for the 2004 murder of trainee chef Essayas Kassahun. 'Sam was just four years old when the Court of Appeal tried to bring an end to conviction by ambush. How many more years will pass before equality of arms between the Crown and defendants is finally achieved?'
---
JUNE
'No parent should have to go through what we went through'
Jon Robins interviewed Margaret Aspinall, chairwoman of the Hillsborough Family Support Group who lost her son in the 1989 disaster. She recalled the anguish being offered £1,226.35 by way of compensation for her son.
'That's why we have to try and change things,' she said. 'I never want any other parent or sister or brother to accept an offer like that and live like that. No parent should have to do that.'
Justice for Grenfell – what does it mean?
'Think for a moment about what – practically – the victims of the Grenfell disaster are facing,' wrote Nick Bano. 'Perhaps very few of them have had any experience of the legal system before, but as a result of last week's fire they will all have to contend with virtually every type of proceeding that the law has invented: coronial courts, criminal investigations, civil claims for damages, homelessness reviews, migration decisions, welfare benefits challenges, inquests and inquiries. The whole gamut of the law has descended on them like a plague, and at the worst possible moment.'
---
JULY
Never again
Sophie Barnes wrote about the importance of learning the lessons of Grenfell. 'Of course we don't yet know exactly what caused the fire at Grenfell Tower to spread as quickly as it did,' she wrote. 'The public inquiry set up by the government will seek to address this question, but there are already concerning signs the inquiry may not be as wide-ranging as many hope.'
'The legal aid review that the government shamefully failed to do'
Proof magazine, issue 3 (Why legal aid matters) was launched in the House of Commons. The issue was co-published with the Justice Alliance. Matt Foot, co-founder of the Justice Alliance, said that for four years the group had been calling on the government to conduct a proper review of the 2013 legal aid cuts. 'They won't do it so we've done it for them. Proof magazine is the review that the Government has shamefully failed to do,' he told the audience.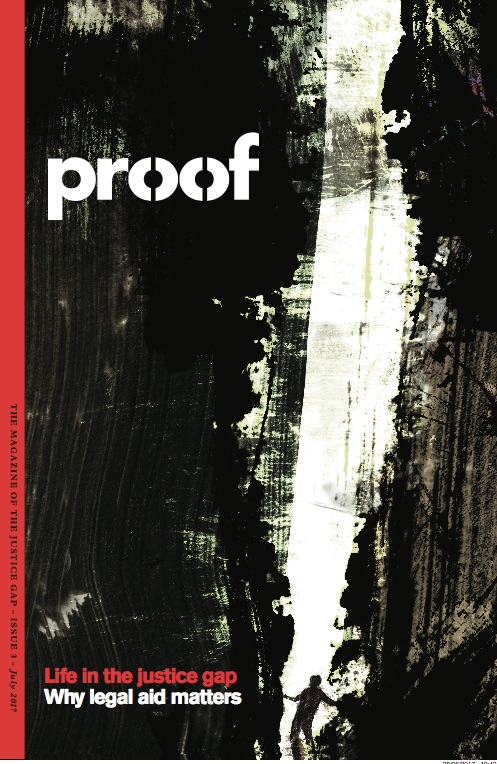 Julius Holgate spoke about his experience at the hands of the Department for Work and Pensions. His case received attention in the national press after being denied Employment Support Allowance when the DWP claimed that he was fit to work despite being a double amputee with no legs. The decision was overturned in February after Hackney Community Law Centre took on Julius's case.
I had to pawn my jewellery because I had no money. I had to rely on my family for bits of spare change. It's still hard for me to talk about it now. If it weren't for the law centre, I don't know where I'd be. We need to support the law centres more.
Julius Holgate

---
SEPTEMBER
Whatever happened to the undercover policing inquiry?
Two years into the public inquiry into undercover policing,  Jon Robins reported on a meeting of campaigners spied upon by the state.
The comedian and activist Mark Thomas is currently suing the Metropolitan Police together with five journalists (including the photographer Jess Hurd). They discovered that they were on the domestic extremist database after requesting to see their own files themselves under the Data Protection legislation. 'I think the most extreme thing I've done domestically is use marge in a Victoria sponge. That's it,' Thomas quipped.
Savile as 'agitprop for believing all abuse allegations'
Dr Ros Burnett and Mark Smith wrote about how allegations of sexual abuse by the former BBC entertainer provided the impetus for an alarming sea-change in policing and prosecution policies.
---
OCTOBER
Is it really acceptable for prisoners to live like this in 2017?
Former prison governor John Podmore wrote about another shocking report from the chief prisons inspector Peter Clarke.
So what is the way forward? At a time when there is barely a coherent government at all, those politicians in charge of prisons are like rabbits in the headlights, praying for a reshuffle and a slightly less poisoned chalice. The MoJ wallows in bureaucracy while HMPPS mans the barricades, literally and metaphorically.
John Podmore
Another shabby day for British justice
Duncan Campbell wrote about the case of Wang Yam, a former MI6 informant, who had lost his appeal against conviction for the 2006 murder of Allan Chappelow.
The two great campaigning series, the BBC's Rough Justice and Channel 4's Trial and Error, have both long been discontinued: too expensive and time-consuming in an age of reality TV. Inside Justice, which is attached to the prisoners' newspaper, Inside Time, fights a lonely, cash-strapped battle in investigating such cases. Deep cuts in legal aid now make it harder for lawyers to explore potential lines of defence. Miscarriages of justice, one senior defence barrister told me in the wake of the Wang Yam case, are seen as 'yesterday's cause'.
Duncan Campbell
---
NOVEMBER
'When you're a Methodist minister, juries tend to acquit'
Will Bordell spoke to Dan Woodhouse who broke into a BAE Systems airbase. Along with fellow peace activist Sam Walton, Woodhouse had hoped to prevent British arms from making their way to Saudi Arabia. The pair was charged with causing £1,000 of criminal damage but were acquitted at Burnley Magistrates' Court. A district judge accepted their argument that they had acted for the greater good.
'There's a point when normal campaigning just doesn't work because the government doesn't want to hear it. Sam and I didn't want to do this action but we had to because there were no other options. There was nothing left for us to do but to try and physically disarm the planes ourselves.'
Dan Woodhouse
Anger at CCRC as latest challenge to Eddie Gilfoyle conviction fails
Eddie Gilfoyle's lawyers declared that there was 'no hope' of overturning the conviction and delivered a blistering attack on the CCRC.
Gilfoyle's lawyers, Birnberg Peirce argued the CCRC's decision to reject their application was 'fundamentally misguided'. The application, described as a 'root and branch attack' on every aspect of the controversial case, had been originally submitted in August 2010.
The CCRC are clearly stuck in settled thinking that refuses to refer back cases that have previously been refused by the Court of Appeal. We are compelled to conclude there is no hope – no hope of establishing the truth for an innocent, wronged man and no hope of having a courageous, serious organisation capable of righting terrible historic wrongs.
Matt Foot
---
DECEMBER
Justice for Laughing Boy
Sara Ryan, mother of Connor Sparrowhawk, spoke to Lucie Boase.
Connor Sparrowhawk. His name has got a superhero-like ring to it. 'Connor Sparrowhawk, the boy who…' But the boy who what? The boy who 'loved his family', suggests mum, Sara Ryan. 'The boy who loved our dog, Chunky Stan, reading Horrible Histories, watching YouTube films of lorries loading on and off cross-channel ferries, the Mighty Boosh, septic tanks, Eddie Stobart lorries and London busses.
Lucie Boase
'I went to prison an innocent kid. The system made me violent'
Jon Robins interviewed Paddy Hill of the Birmingham Six and Rob Brown who spent 25 years in prison for a crime he did not commit.
Hill first met Brown 30 years ago in Wormwood Scrubs around the time of the Birmingham Six's first appeal. Brown had been in prison then for 10 years for the murder of Annie Walsh. 'I have known Paddy for years,' sayus Brown. 'I have done time with all of his co-defendants. What this guy has done for miscarriages of justice and their families, he deserves a knighthood. Paddy should get the recognition he deserves. If he was doing it for the system, he'd get the recognition,' he says. Brown pauses and quickly adds: 'I have no doubt he would tell them where to shove it.'