Last week the United Nations Sub-Committee on Prevention of Torture made its first ever visit to UK places of detention. This followed a report on the UK in May in which the committee raised serious concerns about the findings of a national inquiry that 1,070 alleged incidents of child sexual abuse had taken place on children in custody between 2009 and 2017 and the lack of investigation and redress in response to allegations.
Even though the Government had told the inquiry that concerns about record keeping and redress were being considered as part of a safeguarding review, six months on this review has still not been published. Since the UN torture committee published its report, the Chief Inspector of Prisons has issued the first urgent notification in respect of a children's prison – Feltham prison in West London. Urgent notifications are a relatively new system that enable the Chief Inspector to demand an action plan by the Ministry of Justice to be created and published within 28 days outlining what steps will be taken to deal with concerns about a prison. Concerns about the safety of young people in prison are not new. Yet despite one of the most sophisticated monitoring systems in the world and a significant reduction in the number of young people in prison in the past ten years, children in prison are still exposed to significant harm.
---
This is an updated version of article that first appeared in Proof magazine, issue 4 (Locked up and abused: children suffering in silence). You can buy Proof here.
---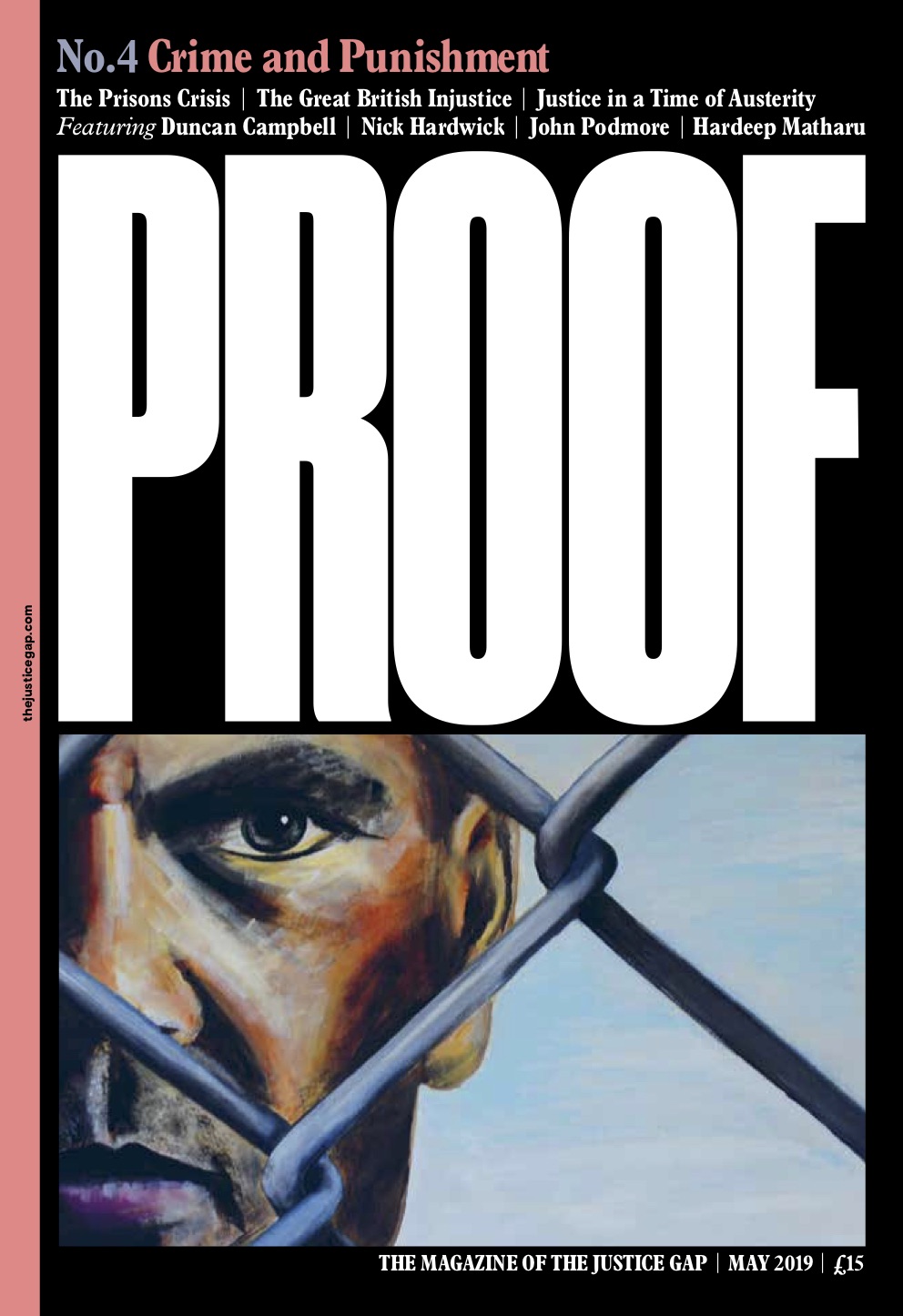 Lee Waite was 18 years old when he ended his life following a brutal sexual assault while on remand at Feltham Young Offenders Institution in 1991. His death was one of four suicides at Feltham prison in London in the early 1990s.
Two years later, the Howard League commissioned an independent inquiry into these deaths, led by Anthony Scrivener QC. It concluded that Lee 'was already vulnerable and then he was subjected to violence in the Institution itself…. [T]he system was defective. This was neither detected when the violence occurred… nor was he able to communicate with anyone he trusted about the incidents. This must have been the final straw, [and] driven to despair and fear, he took his own life.'
Three decades on, the Chief Inspector of Prisons, Peter Clarke, describes a toxic environment with 40% of children saying they felt unsafe at Feltham, levels of self-harm being 14 times higher than in 2017, only 25% of children saying their emergency cell bell was answered within five minutes and 74% of children saying that they had been physically restrained at Feltham A. Staggeringly, over 700 incidents of use of force had been reported in the last 6 months, nearly 300 incidents had not been reviewed by specialist staff and over 900 use of force reports were outstanding at the time of the inspection. The repercussions of this are overwhelming, with child protection investigations being delayed and the report concluding that 'it was not possible for managers to be sure that force was always used legitimately'.
Beyond a deprivation of liberty
The deprivation of liberty is the harshest punishment available in our society. But conditions in English prisons today make it so much more than that. Our prisons are overcrowded: three in four men's prisons are holding more people than they are designed to accommodate. At any one time we have over 80,000 men, women and children in prison in England and Wales. The prison population has more than doubled since the mid-1990s.
We lock up more people than any other nation in Western Europe, with an incarceration rate twice as high as Germany. No public service in England and Wales has deteriorated more dramatically and more profoundly in recent years than the prison system. This situation is inhumane for the prisoners and unmanageable for those in charge of their care. Staff numbers have been reduced since 2012 by up to 40%, making the so-called 'transforming rehabilitation' agenda impossible to achieve.
On top of that, the risk of sexual abuse and violence, even for the most vulnerable people in prison, increases the potential that positive harm will result from the deprivation of liberty. These risks are neither remote nor historical. In his annual report of 2017, HM chief inspector of prisons, Peter Clarke, revealed that his inspection team had concluded 'that there was not a single establishment that we inspected in England and Wales in which it was safe to hold children and young people'. An analysis of 12–18 year-olds' perceptions of their experiences in Secure Training Centres and Young Offenders' Institutions published this year found that over one third of children reported that they did not feel safe at some point.
That children should be detained at all is controversial and would not happen on anything like the same scale in many countries. But the fact that we cannot even guarantee the safety of the children we lock up is unacceptable. The very existence of an independent inquiry into child sexual abuse in custody should have been a wake-up call.
Research suggests that sexual abuse is more likely to occur in environments where the culture is punitive rather than rehabilitative – 'closed', hierarchical and 'macho'. If this is correct, the current conditions within the secure estate for children are ripe for abuse.
Children are locked up for excessive periods and exposed to excessive violence. They are not provided with sufficient access to education, social activities, and emotional and mental health support. Levels of bullying, racism and homophobia in custody are high.
Stunted development
It is not surprising that children are reluctant to report sexual abuse in prison. There are many reasons why: the nature and culture of the environment; high levels of sexual frustration combined with the stifling of normal sexual development; the embarrassment often caused by the issue of sexual abuse; fear of reprisals; and the responses that children experience when they report other forms of abuse. Sometimes children do not even recognise that they are being abused or badly treated as they may have low expectations, limited education and life experience, or a distorted view of what is normal.
In the community, children approaching adulthood are exploring their relationships with others, developing intimate relationships and learning about issues such as equality, respect, sexuality, gender identity and sexual consent. But children in prison go through this process of transition while in custody. They have very little control over their physical appearance – until recently, some children in prison were not allowed to wear their own underwear – and they may have little or no contact with their families.
Children in prison have no physical contact with other teenagers with whom they might form sexual attachments. Development is stunted. As one young man, who entered prison at the age of 15, told the Howard League: 'Everybody knows you stay the age you come in at.'
Talking regularly to young adults in the community who spent prolonged periods of their teenage years in prison and are now engaging in relationships for the first time, you discover how much they are struggling with 'first experiences' when their partners expect a greater level of maturity. When children have been deprived of appropriate education, guidance and opportunities to learn about healthy sexual development, their understanding of what is and is not acceptable may be distorted or inadequate.
This has implications for the reporting of child sexual abuse: how can we expect children to report sexual abuse if they do not know what it is or if it has become normalised?
Young voices
In response to the problems faced by young people in prison in enforcing their rights, the Howard League developed a specialist legal service in 2002. Our legal team runs a free and confidential advice line for children and young adults in prison. The Howard League has dealt with over 5,500 discrete issues for almost 4,000 individuals over the past five years – the greatest number of calls are about the treatment and conditions of young people in prison.
The Howard League's legal work reveals that even when rights arguments are raised by specialist lawyers on behalf of young people, it remains extremely difficult to improve their situations. When the independent inquiry into child sexual abuse held its hearings on abuse in custodial institutions in the summer of 2018, the charity was invited to give expert evidence.
The Howard League analysed more than 800 enquiries and case files including:
A 17 year-old boy in a young offender institution who complained about a female member of staff engaging in a sexual relationship with him.
A 17 year-old girl in a young offender's institution who complained about inappropriate touching by an escort driver whilst on temporary release.
A 17 year-old boy in a young offender institution reported that he had been slapped on his bottom whilst being restrained.
A 15 year-old boy in a secure training centre who reported that he had been restrained on his bed.
A 17 year-old boy with learning difficulties who alleged that he had been sexually assaulted when he was attacked by four other young people
The Howard League legal work reveals that even when complaints are raised by specialist lawyers on behalf of young people, it remains extremely difficult to improve their situations.
It is little wonder that young people have limited, if any, faith in the system to remedy itself. Although sexual abuse is rarely reported by children in custody, this provides no indication of how prevalent it might be. There is so little information is available. The Howard League's commission on sex in prison found that neither the national offender management service nor the youth justice board was able to supply information about the number of official complaints of sexual abuse in custody, or even about the number of investigations, criminal charges or convictions following a complaint.
Research carried out by the independent inquiry on child sexual abuse in custodial institutions also found gaps in evidence as to the prevalence of child sexual abuse. The absence of effective remedies or avenues for children to speak out about sexual abuse mean that it is unlikely that a clearer picture will emerge.
Violence and the risk of sexual abuse – a matter for the torture committee?
The Howard League has repeatedly highlighted the link between sexual abuse and violence. For children, one striking characteristic of custody is the high level of force used by staff, sometimes resulting in serious injuries. Official figures show that, in the five years to 2015-16, the use of force on children in custody increased by 36%, assaults increased by 95% and rates of self-harm rose by 120%.
In 2008, at an independent review of restraint in custody led by Lord Carlile, staff painted worrying pictures of children who actively sought restraint for sexual or other gratification. They reported that they found these situations very difficult to deal with.
It is possible that children may be at risk of sexual abuse in the course of restraint, and the Howard League has called for research on the relationship between the use of restraint and sexual development. Equally, restraint may provide an opportunity for adults to engage in inappropriate contact. The Howard League's independent commission on sex in prison received one submission alleging that some staff would 'bait' children into situations that would result in restraint for their own gratification.
The Howard League's case files include that of a 14-year-old boy who claimed that his trousers had been removed during a restraint and a child who said he had his bottom smacked in the course of a restraint.
It is therefore not surprising that the independent inquiry on child sexual abuse recommended that Ministry of Justice prohibits the use of painful techniques on children in prison. But it is unacceptable that six months on from that recommendation, there has been no movement on this from the government and there has been a further deterioration in conditions.
The UN Committee on torture has expressed its concerns and has now come to see UK places of detention for itself: nearly thirty years on from the tragic death of Lee Waite, what will it take to stop exposing vulnerable young people in custody to harm?