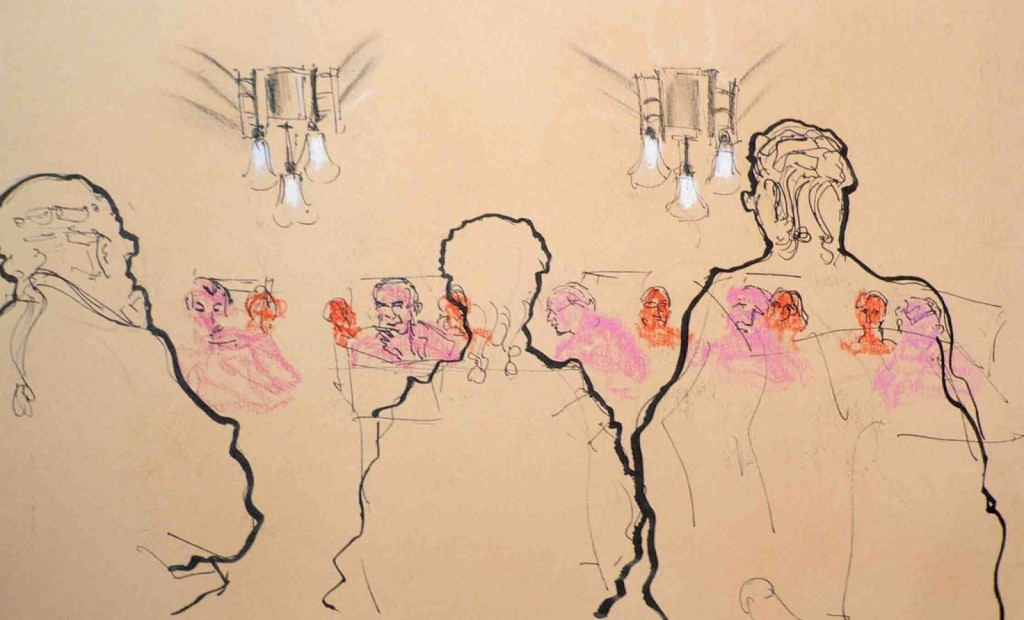 'Lawyers are at the heart of many cases of the wrongly accused and wrongly convicted: wrong, shoddy, lazy representation. It is a recurrent theme. It should haunt us.'
So said Gareth Peirce, speaking at the launch of Wrongly Accused: who is responsible for investigating miscarriages of justice?
No defence: miscarriages of justice and lawyers is that latest publication in the Justice Gap series and follows on from Wrongly Accused: who is responsible for investigating miscarriages of justice? (to be published in association with Solicitors Journal and Wilmington shortly). You can download that collection HERE.
Contributors for No Defence include Eric Allison; Dr Ros Burnett; Prof Ed Cape; Dr Dennis Eady; Francis FitzGibbon QC; Mark George QC; Andrew Green; Campbell Malone; Michael Mansfield QC; Mark Newby; Daniel Newman; Paul May; Dr Angus Nurse; Correna Platt; Julie Price; Dr Hannah Quirk; David Rose; Adam Sampson; Satish Sekar; and Tom Wainwright. Thanks to all.
Thanks to Isobel Williams for the sketch (http://izzybody.blogspot.co.uk/).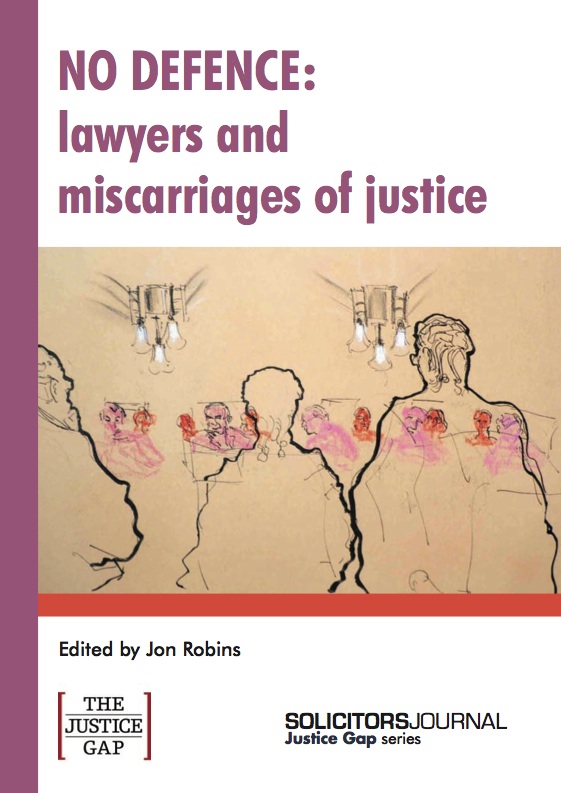 ___________________________________________________________
The follow up to Wrongly Accused, number six in the Justice Gap series published with the Solicitors Journal, is called No defence: lawyers and miscarriages of justice, writes Jon Robins.
All contributors were directed towards the veteran human rights lawyers' comments as well as an essay in the Wrongly Accused collection by Maslen Merchant, a legal executive well known for his work in the difficult area of miscarriage of justices. 'As controversial and unexpected as it may be, in my experience a very high proportion of wrongful convictions are the fault of poor defence work by lawyers,' Merchant wrote. No doubt many defence lawyers would take issue with Merchant's bleak assessment – in fact, quite a few did when we first ran his article on www.thejusticegap.com – see HERE. The contributors to this collection which includes defence lawyers, QCs, academics as well as journalists and campaigners were invited to the issue of lawyers and miscarriages from their own different perspectives.
The collection couldn't be better timed as it is arrives as the government begins to consider some 16,000 responses to its Transforming legal aid consultation. We can't take credit for the timing.
We began commissioning in September last year when the Coalition government led by the then justice secretary Ken Clarke was busy dismantling the civil legal aid scheme. His successor Chris Grayling has now proposed a system of price competitive tendering (PCT) where the number of solicitors' firms will be slashed from 1,600 to 400. Bids under the model of competitive tendering, which must be 17.5% below existing rates, are expected to be made by the likes of Serco, G4S as well as Eddie Stobart.
The proposals, as they stand, would decimate a profession unfairly caricatured as fat cats. Committed firms who have spent decades representing the interests of their inner city communities, or acting on behalf of young or otherwise vulnerable people and that tiny number of firms that specialise in appeal work are unlikely to survive the tendering process as envisaged.
In the fractious relationship between government and defence lawyers, the consultation marks a new low. Such is the deep antipathy towards the proposals that it has managed to unite a profession that has hitherto failed to come together. Some 1,000 defence lawyers met at Friends House near Euston last month. They voted unanimously backing a motion that price competitive tendering was 'not the way forward' and backed a rolling programme of 'training days'.
Gobbledygook
And how would quality of legal advice be preserved under a regime which is designed with the sole aim of slashing the legal aid bill by £220 million and remove the right of defendants to chose their own lawyer? It is fair to say that it is not to the top of the government's agenda. The former Court of Appeal judge, Sir Anthony Hooper quoted in full the impact assessment from the consultation (para 23) on quality assurance at the Euston meeting. ('We will ensure that quality does not fall below acceptable levels by carefully monitoring quality and institute robust quality assurance processes to ensure it does not fall to an unacceptable level.').
The former judge rightly dismissed it as 'gobbledygook'. He referenced the now notorious comment by Chris Grayling that people who find themselves in our criminal justice system were not 'great connoisseurs of legal skills'. ('We know the people in our prisons and who come into our courts often come from the most difficult and challenged backgrounds,' Grayling told the Law Society's Gazette.)'Contrary to the views of the "secretary of state for injustice", defendants are not "too thick to pick",' Sir Anthony said.
That Euston House meeting followed a rally outside parliament which featured the victims of miscarriages of justice that shamed and ultimately forced change upon our criminal justice system. Speakers included Gerry Conlon of the Guildford Four and Breeda Power, daughter of Billy Power of the Birmingham Six. 'Back in the 1970s they were sending innocent people to prison by the van load,' Conlon told the rally. 'If the likes of Eddie Stobart comes in, they will be sending them to prison by the lorry load.'
The legal arm of the well known trucking company earlier in the year announced their intention to move into defence work. Trevor Howarth, legal director for Stobart Barristers, secured their position as the profession's bête noire by likening the incumbent firms to 'wounded animals waiting to die'.
Stobart was 'well known for taking out the waste' and the waste here was 'the duplication of solicitors going to the courtroom'. 'At the moment there are 1,600 legal aid firms; in future there will be 400. At Stobart, we wouldn't use ten trucks to deliver one product,' he said. On ending a defendant's right to choose their solicitor, Howarth's view was that lack of choice was a non-issue. '[People are not] entitled to access justice with an open cheque. No one is stopping them paying for their own choice of solicitor,' he said.
One of 'the biggest impediments' for the Birmingham Six was 'not having the opportunity under the system to change their legal representatives', Breeda Power told campaigners at the Westminster demo.
Billy Power spent over 16 years in prison. His daughter described their lawyers as 'two very young and inexperienced duty solicitors who did not realise they were unable to put their case before the court competently'. It was the first time she had spoken in public for 20 years.
'It is a fundamental right to trial by jury and it is also a fundamental right to be represented by the legal representative of your own choice. The proposal to tender legal aid to the lowest bidder takes away that fundamental right. Justice will depend on market forces and a business decision.'
Breeda Power
This is a tough time for the criminal defence profession – a point made by many of the contributors. It is having to cope with frozen legal aid pay rates, the inevitable move towards competitive tendering arrangements (in whatever form) and the prospect of yet more cuts to come. The pace of change is relentless. We recognise the forthcoming cuts and restructuring will come at a professional and personal cost to many members of an already beleaguered profession. The focus of this collection is what that means for clients.
An edited version of this article appears in this week's Solicitors Journal