More than 25 attacks on prison staff were recorded every day over the last 12 months, according to the latest statistical bulletin from the Ministry of Justice. In the 12 months ending last month, there were 325 deaths on the prison estate which was up 8% from the previous year and included 87 suicides and five homicides.
The latest stats show rising levels of violence in our prisons and, for example, there were a total of 9,485 assaults on staff which represented a 27% rise compared to the figure recorded for the 12 months ending June 2017. This is the highest level of violence against staff since recording began. In the latest three months, such assaults increased by 4% to 'a new record high' of 2,515 incidents.
The statistics revealed 9,565 incidents of self-harm, up 20% from the previous year.
Earlier this month, HMP Chief Inspector of prisons Peter Clarke reported that levels of violence were 'far too high' at HMP Chelmsford. The inspection showed much of the violence was related to drug use and more than four out of 10 prisoners tested positive for drugs.
---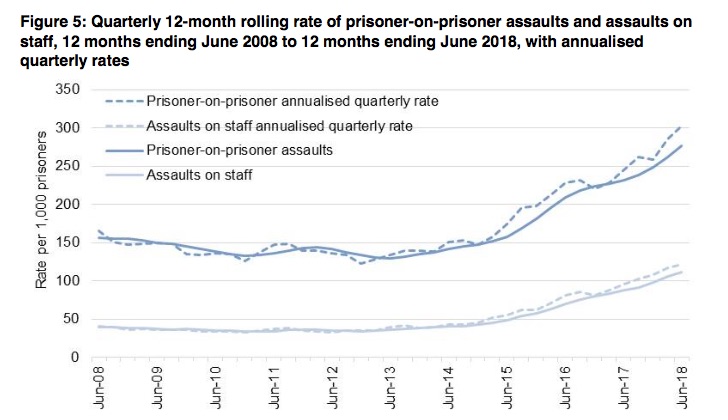 Frances Crook, chief executive of the Howard League for Penal Reform, called the latest statistical release 'shameful'. 'Ministers have recognised the gravity of the situation and have announced plans to raise standards in 10 prisons with a view to improving safety across the system. But more needs to be done,' she said.
'There is only so long that the government can continue to use Brexit as an excuse for failing to introduce the legislation for sentencing reform that is needed. And, in the meantime, the courts must use custody with parsimony.'
Frances Crook
Peter Dawson, director of the Prison Reform Trust, said that the latest figures revealed that there was 'no end in sight to the catastrophe that has engulfed many of our prisons'. 'The government has recruited more staff and spent money on security,' he said. 'But so far it has only talked about reducing the number of prisoners the system holds. That needs to change, with action for the short and long term which will bring the prison population back down to a level where safety can be restored.'