'This was a deliberate act by Merseyside Police to frame me.' So said Eddie Gilfoyle on BBC Radio 4's Broadcasting House at the weekend. He was convicted in 1992 of the murder of his wife Paula. The Eddie Gilfoyle's case is one of a relatively small number of alleged miscarriages of justice that nag away at the fringes of the national consciousness. Until, that is, something happens. And now in the Gilfoyle case there is the appearance of a 'locked metal box'.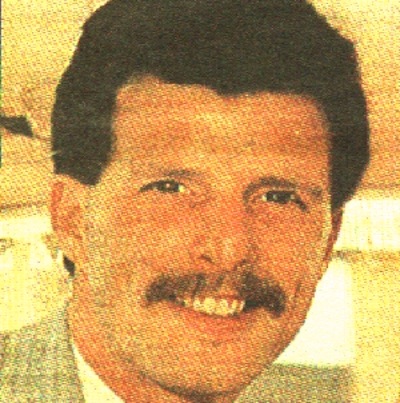 The prosecution argument was that expectant mothers don't kill themselves. On June 4, 1992 Paula Gilfoyle, 32-years old and eight and a half months pregnant, was found hanging from a beam in the garage of the couple's home in Upton on the Wirral in Merseyside.
The jury believed that Gilfoyle stage-managed the 'suicide' after having duped her into writing a suicide note and having persuaded her to put a noose around her neck.
Gilfoyle served 18 years in prison and was released in December 2010. He has always protested his innocence. So what's in the box? According to a Times investigation, the box which has been held by the police for at least 16 years, contains 'a diary and personal papers which revealed a previous suicide attempts and traumatic past'. The evidence, held by the police but undisclosed for some 16 years, paints a very different picture of Paula to the happy-go-lucky, bubbly personality presented to the jury. Apparently, the box's contents reveal that she took an overdose at the age of 15; had two ex-boyfriends who threatened to kill themselves; and continued a relationship with a previous boyfriend convicted of killing a girl whilst he was serving life.
You can read the rest of this article on Jon Robins' Guardian blog (Eddie Gilfoyle's case demands immediate action) HERE.
You can read David Jessel's article on www.thejusticegap.com (They always come good in the end) HERE.
You can sign a petition calling on the Ministry of Justice to get to the bottom of why Merseyside Police withheld diaries of Paula Gilfoyle from the defence for 16 years HERE.
Update: Merseyside Police today announced that 'in the interest of transparency and in light of comments made by Mr Gilfoyle in the media this week Merseyside Police has voluntarily referred the matter regarding the disclosure of material relating to the conviction of Mr Gilfoyle to the Independent Police Complaints Commission'.
Earlier this week Eddie Gilfoyle spoke to Jon Robins:
What next? 'I'm not asking, I am demanding that they take my case back to the Court of Appeal. There is no reason whatsoever why the Ministry of Justice cannot intervene. It's such a disgrace the way I've been treated and the way my family has been treated for 20 years. It took them 11 months to take my 20 years of my life away – so give me my life back in the same time-span it took to take it away.'
Alison Halford, the former assistant chief constable of Merseyside which investigated the case, has called the non-disclosure 'wicked'. Halford described the case (in 2008) as 'a huge miscarriage of justice'. 'Wicked? It is actually evil,' says Gilfoyle. 'It is not just me who has suffered but my whole family. The kids who've grown up going to school knowing that uncle Eddie has been locked up for something that he hasn't done. They have been taunted at school. It's damage that that can't be undone.'
What would having your conviction overturned mean? 'I cannot even find words to begin to describe what it might mean. It would allow me to look forward to a future and to think what my life might be. At this moment, I haven't got a life. I'm simply existing.'
What does he make of the reappearance of the locked box after being held by the police for 16 years? 'There is no reason for the nondisclosure of this box and its contents – apart from the fact it destroyed the case that they were putting forward. They have maintained that case all the way through at the same time as they have sat on this 'box'. It destroys their case.'
Gilfoyle has always maintained his innocence. What drives a campaign like your? 'Do you know when everybody knows that you haven't done it; they know it's not within your make-up to do it; and the evidence actually shows that you haven't done it. Yet the authorities have tried to hoodwink the people and suppress the evidence that proves that you are an innocent man or innocent woman. That is what drives campaigns like mine. Why should they get away with it? Why should people lose years of their lives when Merseyside police or any other public body are sitting on evidence that destroys the lies and deceit they put forward in the first place.'
Is there a time when you might put the anger behind you and move on? 'I can't even think about tomorrow. They know I have not committed murder. That is the worst thing about this. They invented this crime and all the time they sat on the evidence. Will the anger ever leave me? I do not know. I cannot answer that.'