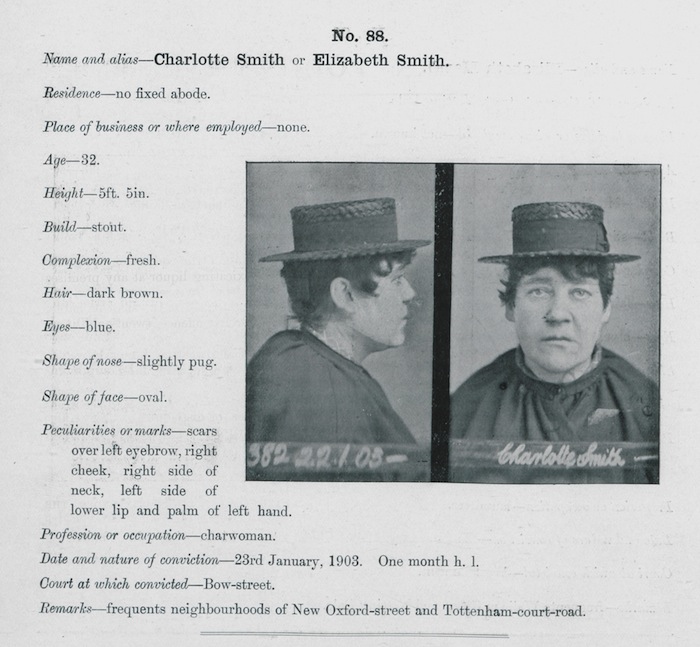 You can now search some 2.5 million criminal records going back as far 1770 online at the National Archives.
Click HERE to search
Pic credit: findmypast.co.uk/National Archive. It shows the charwoman Charlotte Smith, also known as Elizabeth Smith, convicted of being a habitual drunkard in 1903 and sentenced to one month of hard labour.
Yesterday as the culmination of a two-year project scanning original records, the National Archives have made the records available online (including mugshots) for the first time at www.findmypast.co.uk.
'They include details of Victorian serial killers and habitual drunks banned from pubs. It means people will get the chance to trace any villains they may have in their family tree.'
National Archive
Paul Carter, principal modern domestic records specialist at the National Archives, said that the records showed 'the evolution of the criminal justice system in the 19th century as the country dealt with the impact of industrialisation, urbanisation and population growth'.
'They record the intimate details of hundreds of thousands of people, beginning with judges' recommendations for or against pardons, to petitions through which criminals and their families could offer mitigating circumstances and grounds for mercy, and later, licences containing everything from previous convictions to the state of a prisoner's health,' said Carter. 'As well as the Georgian highway robber, the Victorian murderer and the Edwardian thief, the courts often dealt with the rural poacher, the unemployed petty food thief or the early trade unionist or Chartist. The records are a fascinating source for family, local and social historians.'