'Society wants to know about prison life, an interesting place to visit but you wouldn't want to live there.' Frankie Owen, from The Little Book of Prison.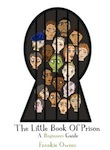 You can read Matt Evans of the Prisoners Advice Service on the Justice Gap writing about prisoners and their rights  HERE. Matt's latest article considers the shocking case of Kevan Thakrar HERE. Thakrar was cleared of two counts of attempted murder and three counts of wounding with intent after lashing out at Frankland prison officers.
'What is clear is that the regime at Frankland – which Kevan Thakrar's barrister said at the start of the case would be 'put on trial' – has been found guilty. Instead of questioning the jury verdict – should not the starting point be an investigation into the regime at Frankland and the allegations of beatings and violence directed towards non white prisoners?'
Michael Teague, a criminologist at Teesside University, looks at the US incarceration machine HERE and asks why UK penal policy follows the American model.
'The US incarceration machine functions on an industrial scale. The country's 5000+ state and federal prisons and local jails incarcerate a staggering total of almost 2.3m citizens. Put another way, America locks up no fewer than one in 100 of its adult citizens. With an imprisonment rate of up to 10 times greater than other western parliamentary democracies, it has achieved the dubious accolade of the highest per capita rate of imprisonment in the world.'
You can read Frankie Owens (formerly prisoner A1443CA) now author of The Little Book of Prison: A Beginners' Guide (Waterside 2012) on surviving prison HERE.
Frankie's five golden rules for surviving in prison are:
Keep your head down, do your bird, ride out your bang up
It's nice to be nice, be positive, entertain and see the bright side
Don't believe everything you hear in HMP
Pay your bills if you borrow
Never lose your cool
Plus you can read Gemma Lousley of at the Detention Advice Service (DAS) on access to justice for foreign prisoners HERE.
'Irresponsible reporting by the press and populist pandering by politicians across the parties has helped to ensure the place of foreign nationals as one of the most unpopular groups in our prison system. Though they now make up around 13% of the prison population, they are also one of the most marginalised and vulnerable groups, whose needs and problems are rarely considered a priority.'