There are 8,554 prisoners presently serving a life sentence in the UK more than France, Germany and Italy combined. According to the Prison Reform Trust's Bromley Briefings, an analysis of international figures from 2016, the UK is also the European country with the highest proportion of citizens serving life sentences, at 13 per 100,000. This is in stark contrast to France and Russia, where the rates are 0.7 and 1.2 respectively.
Contributors to the report, Professor Dirk van Zyl Smit and Dr Catherine Appleton said that the UK's use of indeterminate sentences was 'plainly out of kilter with the majority of international comparators'. They identified the passage of the Criminal Justice Act 2003, which introduced the indeterminate sentence for public protection (IPP), as a 'watershed' moment which, they argued, had inflated punishment tariffs for formal life sentences. Although IPPs were abolished in 2012, there are still 2,598 people currently in prison serving such sentences and almost nine out of 10 (89%) had passed their original tariff expiry date.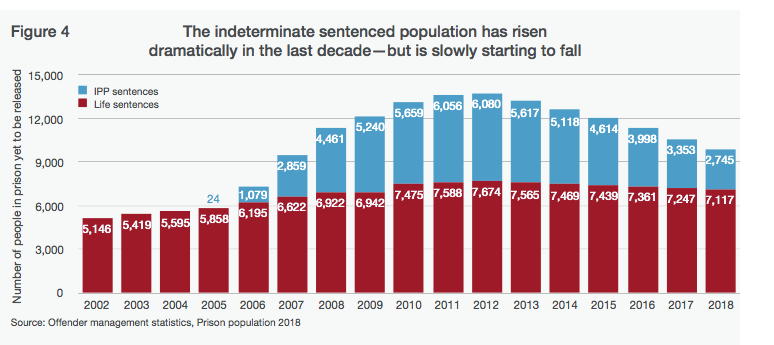 Their analysis goes on to identify other factors contributing to the high figures, particularly the UK's imposition of mandatory life sentences for murder and the wide range of offences which attract discretionary life imprisonment, which is not the case for most European countries.
Peter Dawson, Director of the Prison Reform Trust commented: 'In many cases [there is a] sense that punishment, though deserved, has ceased to be proportionate or just in its administration. This has profound implications…if the treatment of those serving the longest sentences is to be both humane and purposeful.'  See also Liberal Democrat Home Affairs spokesperson, Callum Robertson's recent article for the Justice Gap arguing that mandatory sentencing laws were a 'fallacy'.