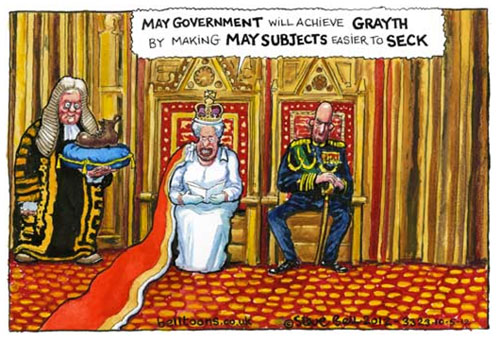 Business Secretary Vince Cable yesterday attacked 'ideological zealots who want to encourage British firms to fire at will'.  He was speaking after a draft of the venture capitalist Adrian Beecroft's unpublished report was leaked.
You can read Richard Dunstan on the controversial proposal to abolish legal protection against unfair dismissal for those employed by small firms.
'Vince Cable appeared to have kicked this particularly odious proposal into Whitehall's long grass, but clearly some in the Conservative part of the Coalition have not yet given up on the idea… But I don't think I could write any words that would convey the idiocy of any such a move more powerfully than this fabulous cartoon by the great Steve Bell.'
Thanks to Steve Bell for permission to reproduce his cartoon.  Please do not re-reproduce without permission.
Bonkers
Writing for The Sun, Vince Cable said: 'Those who want to shake up the law need to realise that the days in the 70s and 80s when the unions ruled the roost have long since gone. I talk to businesses every day and none of them tell me that their biggest obstacle to employment and growth is troublesome workers who they can't get rid of.' He was reported privately to have called the Beecroft 'fire at will', no fault dismissal proposal 'bonkers'.
Shadow business secretary Chuka Umunna said that 'putting people in fear of losing their jobs' would 'have a huge detrimental impact on consumer confidence'.
Meanwhile the prime minister was indicated he was still backing the Beecroft no fault dismissal proposal. 'On the issue of no fault dismissal and other proposals like that, I am interested in anything that makes it easier for one person to say to another person: "Come and work for me," because we need to make our economies flexible,' David Cameron was reported to say. 'We need to make our labour markets work as flexibly as possible and we will obviously need to examine each proposal on its merits.'