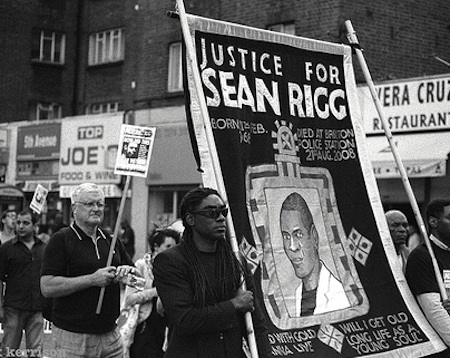 The IPCC has failed in the way it investigates deaths involving the police, according to INQUEST. The organisation says that in its 10 year existence the IPCC has not gained the trust of bereaved families and has failed to reach impartial conclusions in a number of investigations. The group was responding to an IPCC report on how it handles cases where a suspect has died in police custody.
Deborah Coles of INQUEST said: 'This report is welcome acknowledgement that time and again bereaved families have been failed by the IPCC. The absence of a robust police watchdog has allowed corruption and dangerous practices to go unchecked.'
'Family and public confidence will only be achieved if the IPCC delivers an investigation process that ensures wrongdoing, misconduct and poor practice is uncovered and police are properly held to account.'
Deborah Coles, INQUEST
Family members of victims who died in hospital hope that the report leads to action.
The sister of Sean Rigg – who died in police custody in 2008 – hopes the report's recommendations will be implemented as soon as possible. An independent review of the IPCCs investigation into Sean Rigg's death found that IPCC had failed to reach a proper conclusion.
Marcia Rigg said: 'We welcome this long awaited final report. The damning verdict at the inquest into our brother Sean's death highlighted the extreme inadequacies of the original IPCC investigation.'
The IPCC admits that mental health is a 'major underlying issue' in many of the deaths it investigates, including Sean Rigg's. In 2012/13 almost half of those who died in custody suffered from mental health issues, as did two thirds of those who committed suicide two days after release.
The IPCC was formed in 2004 after Police Reform Act 2002 and is independent of political parties and government, as well as the police.
The body has often been criticised for employing ex-police staff and currently 25% of it's employees have worked in the police service. The Equality and Human Rights Commission has previously said: '[A] key area of concern about IPCC's actual or perceived ability to conduct independent investigations is the high number of their investigators who are ex-police officers or ex-civilian police staff.
'However robust IPCC systems and policies to prevent favourable bias are, there will be a problem of perception when former police officers investigate the police.'
To address this it has already implemented a trainee investigator scheme and taken on 44 trainees, none of whom come from a police background.
The IPCC also says it will communicate more effectively with the families concerned and will give them a more active role in the investigation.
'Families will be actively involved in developing the terms of reference for the investigation, to include the questions they would like to be answered,' the report says.